Building Long Term Strategic University-Industry Partnerships Report

Lessons and Effective Practices from UK and US Experiences.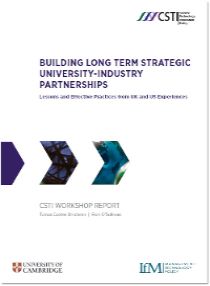 A new report from the Centre for Science, Technology and Innovation Policy have published a new report which sets out key lessons, insights and effective practices for developing and nurturing effective strategic university-industry partnerships (UISPs).
It presents the findings from a workshop held in Cambridge UK in March 2014 to identify what needs to be done to strengthen the ability of universities and industry to develop mutually beneficial and effective strategic partnerships, focusing on the following key areas:
The nature of the value proposition and potential downsides;
Initiating strategic partnerships;
Nurturing and managing them;
Building resilience and dealing with disruption and change;
Roles for government agencies
Key challenges moving forward
To download the report, please visit here.
Or contact Tomas Coates Ulrichsen for more information.
Date published
10 March 2015
Related People
Share This