Best paper award for the ITALI team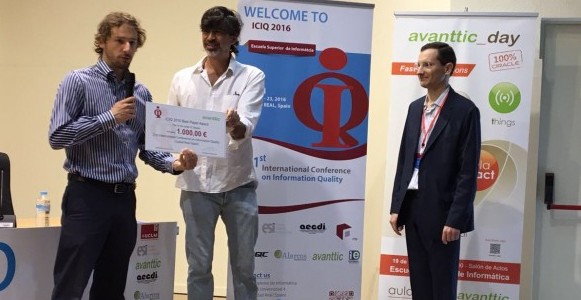 Philip Woodall, Vaggelis Giannikas, Wenrong Lu and Duncan McFarlane were proud recipients of the best paper award and a cheque for 1000 Euros from the 2016 International Conference on Information Quality (ICIQ).
?
They were awarded for their paper: Data State Tracking: labelling good quality data to improve warehouse operations. The paper describes how disruptive situations in warehousing operations can be avoided by recording the potential problems with the data in the warehousing information system.
?
The system helps to avoid misalignments between the actual location of an item and where the information system records the item to be. The research was done as part of the ITALI project funded by YH Global. The conference was held in Ciudad Real in Spain on 21st to 24th June where leading experts and researchers in the area of data and information quality from all over the world presented their research.
Date published
29 June 2016
Related People
Share This