A disruptive influence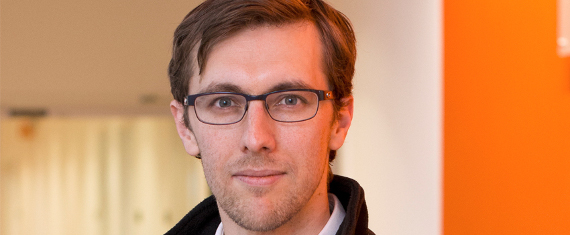 Stewart McTavish was supervised for his MPhil at the IfM by Dr Tim Minshall, Reader in Technology and Innovation Management and Head of the IfM's Centre for Technology Management. Stewart is Director of ideaSpace, Cambridge's hub for early stage innovation which has just opened a third site on the Biodemedical Campus at Addenbrooke's. Stewart and Tim met to reflect on how Stewart came to be running ideaSpace, how he has seen his vision for it become a reality, what he plans to do next – and how he invented crowdfunding.
Tim: Remind me what were you doing before we first you doing before we first came across each other.
Stewart: I read Computer Science and after graduating started a website design business. One of my first projects was for Cambridge University Entrepreneurs (CUE). Pretty soon I was Vice-President and then became President. We initially met when I approached you about creating an online teaching / training portal for entrepreneurs which you had done an
early version of for the Cambridge Entrepreneurship Centre.
One of the issues from that time was that CUE was thinking about how to accommodate the changing attitudes of the students, who were becoming increasingly concerned with making the world a better place. This meant that business plans with huge commercial potential were being judged against ones which were good for the planet.
Yes – Nicky Dee (who did one of the first PhDs on venture capital targeted at sustainability and went on to become a researcher with the IfM's Centre for Technology Management) had already started that process when I joined. We ended up with two separate competitions judged on different criteria: one was about commercial impact and the other triple bottom line (economic, environmental and social) impact. But both were about their potential to scale.
So how did the MPhil come about?

One of my main tasks as CUE president was to raise funds. Sponsors would say 'we'd love to give you some money but what exactly is it for?' The University had embarked on its relationship with MIT (the Cambridge-MIT Institute) and in 2004 CUE hosted the Global Start-up Workshop. As we were one of the first university business plan competitions in Europe, we were perceived to be the leading UK student entrepreneurship society at the time. At the conference we met a number of universities that were trying to set up a student entrepreneurship society but didn't know how.
Having sponsored Global Start-up Week, the Cambridge-MIT Institute asked us to help get student societies going in other universities. I pitched them the idea that we could do this but to do it properly we needed a better understanding of the role and impact of CUE. To do that, I needed to do some research. They agreed to fund the work and I discovered that I could do a research MPhil at the Engineering Department.
The headline finding from my MPhil was that these kinds of competitions create a lot of value and should be continued.
---
I compared the Cambridge and MIT business plan competitions and in both cases, for every pound given out in prize money about £100 of company value was created by the winners.
---
Tim: What happened next?

While I was doing my MPhil, I started a company called mo.jo. The idea started with a friend who developed a technique for predicting women's fertility by measuring their basal temperature more accurately than had been previously possible.
This was a brilliant idea and one which women loved and wanted to buy. The problem was that when we talked to potential investors they were predominantly men in their fifties and sixties who couldn't connect with fertility problems. So we had all these people who wanted to buy the product and all these people who weren't going to fund it. Then we thought if you asked for £100 from every woman who wanted it, you'd be funded. And that was the start of mo.jo.
At the time, we couldn't figure out how to legally enable the funding element to be any more than a donation in the UK so in the meantime we set up a website where people could discuss ideas together and build teams. We built and sold that as a service to large organisations who were trying to engage with innovative ideas.

So this was almost the beginning of crowd-funding?

Kind of, we thought of it as "threshold based public funding". An early competitor was The Point which people were using to group together to buy consumer deals. The people running it noticed this behaviour and relaunched as Groupon! We could never figure out a pathway to make the funding part of the idea work. So we ran mo.jo for long enough to give our investors a decent return and we decided as a team to disband. At which point I was starting to think about new potential companies but my wife Rosie (a MET alumna) had a suggestion. "We are going to start a family. You need to get a job that involves you being at home more than one day a month."
Hermann Hauser (one of the investors in mo.jo) had just given the University money to build the Hauser Forum and it was recruiting for a manager to run this new thing called ideaSpace and a couple of people suggested I should consider it.
At the time there was a vague concept that ideaSpace was going to be a traditional incubator. I had an almost allergic reaction to the idea that the University should set up and run a traditional incubator. Cambridge already had the St John's Innovation Centre and the incubator on the Science Park. Having started my own company I felt very strongly that what was missing from the Cambridge ecosystem was support for founders who may not yet know what their company is. When they interviewed me I pitched my idea and explained my thinking. Five days later I got a call saying they wanted to give me and the idea a go.
How would you describe what you are trying to do at ideaSpace?
---

We focus on the people who are creating new ventures rather than the ventures themselves. It's about creating a space shared by the entrepreneurial and University communities.
---
When a lot of institutions support entrepreneurship they tend to attach all sorts of metrics to that support which has the effect of pushing people down a very narrow channel where they are not given the freedom to try things. And that's often a result of the funding model. If an institution or government is providing the funding they will want to be able to demonstrate how effective it is. We are paid for by our members – and they seem to like what we do.
The other thing that's different about us is that even though we are a part of the University we are not just for the University. When I last looked 30% of our founders had no relationship with the University except for their membership of ideaSpace. But they are often people who are on their fourth or fifth company and they provide valuable advice or suggestions to the less experienced members. Belonging to ideaSpace is all about learning to be a founder and part of that is meeting other people who have been –or are currently – doing that.
Is it fair to say that the conventional incubator model kept being pushed because it's easier for people to get their heads around if they hadn't had any entrepreneurial experience themselves?

I agree. Plus I think our model is harder to manage than a more conventional one. We were saying we will use a space to bring together a community and good things will happen. There was plenty of scepticism to start with. But ultimately we have created the thing I wished had existed when I started my first company. I basically designed if for me to begin with but it has grown with input from all our members and supporters over the years.
And your vision has been proved right.

Our original funding was to last five years after which the expectation was that we might be absorbed into another part of the University. But by the end of five years we were self-sustaining. So, so far so good.
It's also fair to say that ideaSpace fills a gap in the Cambridge ecosystem. It's not trying to compete with Cambridge Enterprise but do something genuinely different.

As part of my MPhil I looked at the historical evolution of Cambridge entrepreneurship and we designed ideaSpace to help accelerate the next phase of the ecosystem evolution. But ideaSpace is only possible because other elements of the ecosystem – like Cambridge Enterprise – are already here.
So ideaSpace West and ideaSpace City have been hugely successful. You have just opened ideaSpace South at the Biomedical Campus on the Addenbrooke's site. The model is clearly working. What next?

As part of the process of making ideaSpace a permanent part of the University we were asked to come up with a 20-year strategy. When we looked at the journeys of founders they tended to have had three broad starting points: an invention or discovery, a particular set of experiences or capabilities they explore, or a market or societal opportunity that they wanted to address. In the University for the first type of entrepreneur there's Cambridge Enterprise. For the second, there's ideaSpace. But there isn't a Cambridge programme that helps people engage on a non-research basis with societal challenges.
There are initiatives like the Centre for Global Equality and Humanitarian i-teams but they tend to look at how you can take new technologies and innovations and apply them to a problem rather than understanding the problem first and then finding or developing the technology to solve it. So that's what we are working on now.
The working title is the innovationLab (because we lack imagination) and we are building new partnerships in Africa, East Asia, India and South America. With these culturally diverse perspectives we aim to better understand what the infrastructure for a fair global society could look like.
IfM Review Issue 6 Articles
Find us on
Date published
24 November 2016
Related People
Share This