Summer 2014 Newsletter
Dear All,
The focus of this Summer Newsletter is all on the upcoming event in which we will celebrate Mike Sharman's life and his many contributions to engineering and manufacturing education.
It will be held on Saturday 27 September from 10:30 am to 3:00 pm here at the IfM.
The focal point of the day will be a family lunch to which all are welcome, followed by the commissioning of an antique railway bench and the planting of a tree. During the morning there will be a programme of talks and reminiscences from colleagues and students from Mike's period running ACPMM/ACDMM, tracing the development of the course from its inception through to today's ISMM, and concluding with a brief review of our current activities.
Contact Ella Whellams to let her know that you are coming and how many family members you would like to bring along by clicking here.
May I wish you an agreeable summer and hope very much to see you in September.
Best,
Mike Gregory
Head, Institute for Manufacturing
---
Tribute to a manufacturing education pioneer: Mike Sharman 1933 - 2013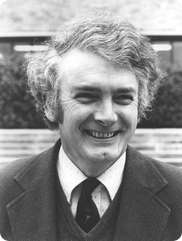 Mike Sharman, a pioneering course director in manufacturing at the University of Cambridge's Department of Engineering, has died, aged 80.
Mike did well at school and read Engineering at St John's College, Cambridge. Always more keen on practical action than on abstract theorizing, he went to work for the famous de Havilland aircraft company in Hatfield.
An enthusiastic and engaging communicator, Mike moved to become a lecturer at the highly-regarded Hatfield Polytechnic before being recruited back to Cambridge by John Reddaway to run a radical new postgraduate course, initially known as the Reddaway Plan.
Reddaway had returned to join the staff of the Engineering Department after a period in industry. Encouraged by John Baker and Will Hawthorne, he outlined, with David Marples, a more engaging and demanding way to introduce graduates into industrial life rather than the then commonplace 'sitting by Nelly' – learning from experienced workers.
---
| | |
| --- | --- |
| | More than 30 innovation leaders from major companies were hosted by Mars in Veghel, Netherlands for the June 2014 meeting of the Open Innovation Forum in the Food and FMCG Value Chain. Read more... |
---
| | |
| --- | --- |
| | Students showcased their project work at the annual Manufacturing Engineering Tripos (MET) Design Show at the IfM. Read more... |
---
| | |
| --- | --- |
| | Prof Bill O'Neill discusses the importance of advanced materials as one of the UK's "eight great technologies" for future growth in a series which focuses on relevant research across the University of Cambridge. Read more... |
---
| | |
| --- | --- |
| | A new study by Chander Velu, from the Institute for Manufacturing and Mahima Kanna from the International Finance Corporation, aims to shed light on business model innovation in India over the last decade. Read more... |
---
| | |
| --- | --- |
| | What does it mean to be an engineer, and how might we all draw on our inner-engineer to change the world we live in? Read more... |
---
| | |
| --- | --- |
| | An article in The Telegraph by Cambridge Service Alliance (CSA) Director, Andy Neely explains why he thinks Google Glass and other wearable technologies could be the future of the British service economy. Read more... |
---
Opportunities at IfM ECS
IfM Education and Consultancy Services (IfM ECS) is seeking to expand its activities for industry and government through the appointment of a small number of high-calibre Associates. Our Associates apply IfM research via consultancy and/or education services, working nationally and internationally with government and government agencies, large and multinational firms and smaller and mid-size firms.
The characteristics we seek in our Associates include a high calibre academic background; 15-25 years' experience in industry and/or related policy areas, much at senior levels; and in interest in applying academic management and policy research to real industrial challenges and communicating learning from application to researchers.
---
Upcoming courses and events
Thursday 11 to Friday 12 September 2014
Capturing value from global networks: implications for manufacturing, supply chains and industrial policy.
Monday 15 to Wednesday 17 September 2014
Intensive three-day programme offering an excellent opportunity to gain an overview of the field of tribology.
Tuesday 16 to Wednesday 17 September 2014
Hear how leading companies have made effective sustainable changes and learn from case studies about the practical applications of sustainability research in businesses.
Tuesday 23 to Wednesday 24 September 2014
A two day workshop covering the fundamental issues associated with the management of early stage technology and innovation.
Tuesday 30 September 2014
The event will provide unique insights from leading service providers and academic institutions and offers a valuable opportunity to hear the latest developments in service thinking.
Tuesday 7 October 2014
A thorough introduction to strategic roadmapping, guiding participants through each step of the roadmapping process.