Mike Sharman 1933 - 2013

Mike Sharman, a pioneering course director in manufacturing at the University of Cambridge's Department of Engineering, has died, aged 80.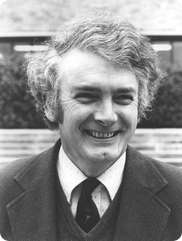 Mike did well at school and read Engineering at St John's College, Cambridge. Always more keen on practical action than on abstract theorizing, he went to work for the famous de Havilland aircraft company in Hatfield.
An enthusiastic and engaging communicator, Mike moved to become a lecturer at the highly-regarded Hatfield Polytechnic before being recruited back to Cambridge by John Reddaway to run a radical new postgraduate course, initially known as the Reddaway Plan.
Reddaway had returned to join the staff of the Engineering Department after a period in industry. Encouraged by John Baker and Will Hawthorne, he outlined, with David Marples, a more engaging and demanding way to introduce graduates into industrial life rather than the then commonplace 'sitting by Nelly' – learning from experienced workers.
After a couple of trial runs in long vacations the 'Advanced Course in Production Methods and Management' (ACPMM) was launched in 1966 with 12 handpicked graduates as 'guinea pigs', support from leading manufacturing companies of the time, and Mike Sharman as the Course Director.
This pioneering role fitted Mike like a glove and he immediately took full ownership of the initiative. His energy, enthusiasm and knowledge of practical engineering as well as the theoretical context, inspired and excited the 'guinea pigs' who loved the course, as have successive generations of students.
Lasting a full calendar year, and designed to emulate professional rather than student tasks and disciplines, the course involved an intense series of real 2-3 week projects in factories across the country, interleaved with lectures from practitioners as well as academics.
The projects, typically analyzing and improving factory operations, were almost always successful – sometimes spectacularly so. They demonstrated how bright young engineers with the right preparation could make an early impact in industry, boosting their professional confidence. Industry was delighted to see students getting to grips with the practicalities of engineering and manufacturing and graduates from the course were, and continue to be, much sought after.
Under Mike Sharman's vigorous and tenacious leadership the course flourished enjoying support from major companies as well as the Engineering and Physical Sciences Research Council (EPSRC) and the Department of Trade and Industry (DTI) at a time when manufacturing was much less fashionable.
At its peak the course was able to take more than 50 students per year and became the Advanced Course in Design, Manufacture and Management (ACDMM). Today, the course is the MPhil in Industrial Systems, Manufacturing and Management (ISMM) and its 40 places are regularly five times oversubscribed – though Mike always wished to see more bursaries for UK students.
The influence and legacy of the course cannot be over-estimated. Having run for many years purely on its reputation and without any qualifications, Mike piloted the course into the mainstream thanks to the encouragement of David Newland, the efforts of Colin Andrew, support from the Gatsby Charitable Foundation and the award of a Masters degree.
The importance of blending practical engagement with theoretical study is now widely accepted as vital – Mike Sharman's thinking and example were years ahead of this now accepted wisdom, not least in subsequent developments in Cambridge. Thousands of students have experienced the excitement of getting grips with the people and places that actually make things.
But engineering and manufacturing practice and education were not Mike's only passion. He was nationally known as an expert on, and an avid collector of, historic railway lamps. Those who had the privilege of being introduced to his collection will recall seeing his attic, shed and garage festooned with lamps – filling and covering the vintage Rolls Royce!
In recent years he had been ensuring that many of these fascinating and often beautiful objects found their way into major public collections, though the nameplates from famous steam age equipments still decorate his hallway at home.
Mike was a Fellow of Wolfson College from 1982 to 1996 and an Emeritus Fellow from 1996 to 2013. He was awarded the MBE in 1994 for his significant contribution to Engineering Education.
Unfailingly generous, knowledgeable and engaged, Mike substantially influenced the lives of many of us who were taught by him. He died peacefully and is survived by his three daughters and his wife, Margaret, whose calm and wise counsel was a perfect foil for Mike's energy and enthusiasms.
Mike Sharman, born 17 September 1933, died 20 December 2013.
Date published
15 January 2014
Related People
Share This