Job Opportunity - Apply by 22nd October 2023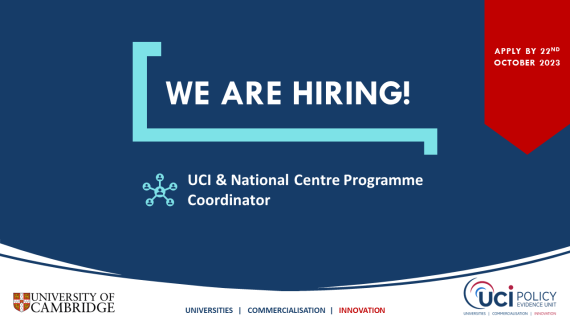 UCI & National Centre Programme Coordinator
---
Focus: Coordinating the day-to-day activities of UCI and our joint work programme with Research England (part of UKRI) to launch a new National Centre for knowledge exchange evidence, data and metrics
Location: Cambridge, UK
Contract term: The funds for this post are available until 5th April 2025 in the first instance, with potential for extension subject to further funding
Salary Ranges: £32,332-£38,205
Closing date: 22nd October 2023
---
Interested in playing a pivotal role in developing a high-impact, strategically important national centre to support knowledge exchange policy and university practice?
The University of Cambridge Policy Evidence Unit for University Commercialisation and Innovation Policy (UCI) is a leading UK centre of excellence dedicated to improving the evidence base and insights available to governments, funding agencies and universities to help them drive a step-change in university contributions to innovation through commercialisation and knowledge exchange (KE). Established in 2020, our work has had a significant impact on the development of government policies related to commercialisation and KE, and on university practice.
In 2023, we received a significant expansion to our grant from Research England (part of UKRI), in particular to work in close partnership with them to develop and launch a new national capability and centre for knowledge exchange (KE) evidence, metrics and data.
We are now looking for a highly motivated and capable Programme Coordinator to co-ordinate activities within UCI to ensure its efficient and effective operation, and in particular to help successfully deliver the nationally important UCI-Research England (RE) joint work programme to develop and launch a national centre for knowledge exchange evidence, data and metrics.
About the role
Working closely with the Director of UCI and the UCI-RE joint work programme team, you will be responsible for, among other things:
Coordinating day-to-day activities of UCI, and in particular the UCI-RE joint work programme
Developing and maintaining effective working relationships with our partners at Research England
Developing detailed project plans and documentation, for example using Gantt charts, stakeholder engagement maps, RACI matrices and other project management tools etc
Keeping track of programme progress and providing updates to key stakeholders
Supporting stakeholder engagement, organising key events and regular meetings, and developing effective communications for the programme
Providing financial management, and administrative support as required
The ideal candidate
The ideal candidate will be educated to degree level/Level 6 vocational qualifications or an equivalent level of practical experience. You will possess excellent communication, interpersonal and organisational skills and have some experience of working in an administrative/project coordination role. You should be able to demonstrate advanced knowledge of project coordination and strong research, analysis and reporting skills.
Previous exposure to supporting the management of projects would be desirable, as well as experience of working in a higher education setting.
Further information and to apply
For full details and how to apply, please visit the University of Cambridge Job Opportunities page.
Applications are welcome from internal candidates who would like to apply for the role on the basis of a secondment from their current role in the University.
If you have any questions about this vacancy or the application process, please contact the HR Office at the Department of Engineering (hr-office@eng.cam.ac.uk, 01223 332615). Informal enquiries about the role are welcomed and should be directed to: Tomas Ulrichsen, Director of UCI, at tc267@cam.ac.uk.
Please quote reference NM38553 on your application and in any correspondence about this vacancy.