Job opportunity - apply by 2nd July 2023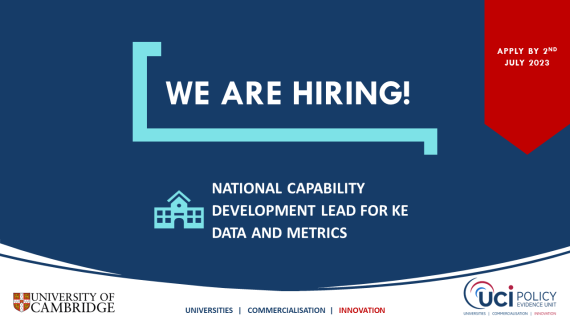 ---
Focus: Driving a nationally strategic project for Research England (UKRI) to launch and build a national capability for knowledge exchange data, metrics and evidence
Location: Cambridge, UK
Contract term: The funds for this post are available until 5th April 2025 in the first instance, with potential for extension subject to further funding
Salary Range: £44,414-£56,048
Closing date: 2nd July 2023
---
Join UCI to help build England's national capability for knowledge exchange data, metrics and evidence!
Research England – the English universities funding body – recently set out an ambition to develop a national capability for knowledge exchange(KE) data, metrics and evidence, particularly in the area of research commercialisation and impacts. Through this, they aim to significantly improve data available to policymakers, university funders, universities and others to make more informed and effective decisions about where and how to invest in KE to deliver increased value.
To deliver this ambition, Research England have provided funding to the Policy Evidence Unit for University Commercialisation and Innovation (UCI) at the University of Cambridge to work closely with them to develop strategic and operational plans to guide the launch of this national capability by April 2025 and its future development.
UCI is now looking for a highly motivated, experienced, and collaborative individual to join the team to lead this nationally and strategically important work programme.
About the role
The National Capability Development Lead will lead the work programme, working in close partnership with the team at Research England and other key stakeholders to:
Develop, manage and lead the work programme, including efforts to develop and refine the scope of the national capabilities that need to be built, and options for how it can be developed effectively
Review how this type of capability is built and delivered by policymakers and funders in other policy domains and in other countries, and identify implications and recommendations for Research England
Build a national community of interest around the development of the national capability
Develop and deliver a national conference in April 2024 aimed at supporting the launch of the national capability by April 2025
Develop detailed strategic and operational plans to lay the groundwork for its launch by April 2025 and development in the short/medium term
The ideal candidate
The ideal candidate will have some experience in setting up national initiatives in public, private or university settings, and of working collaboratively with key stakeholders and partners to do so. They will also be able to:
Produce high-impact, practical strategic and operational plans to guide the delivery of a national initiative and influence senior decision-makers
Engage, and build strong working relationships, with senior decision-makers to develop and deliver work programmes, and build communities of stakeholders around a common vision
Understand the needs for improved knowledge exchange data, evidence and metrics for policymakers, university leaders and managers and others, and demonstrate a strong commitment to driving evidence-led policy and practice
Deliver complex work programmes to schedule
About UCI
UCI is based within the University of Cambridge Department of Engineering on the West Cambridge campus. It is a leading UK centre of excellence seeking to improve the evidence base and insights available to government departments, funding agencies and university leaders to help them accelerate university contributions to innovation through their commercialisation and wider knowledge exchange (KE) activities. Established in 2020 with generous funding from Research England (UKRI), our work to-date has had a significant impact on the development of government policies related to commercialisation and KE, and on university practice.
Further information and to apply
Applications are welcome from internal candidates who would like to apply for the role on the basis of a secondment from their current role in the University of Cambridge.
For full details and how to apply, please visit the University of Cambridge Job Opportunities page.
Informal enquiries about the role are welcomed and should be directed to Tomas Ulrichsen, Director of the UCI, at tc267@cam.ac.uk. If you have any questions about the application process, please contact the HR Office at the Department of Engineering (hr-office@eng.cam.ac.uk, +44 (0)1223 332615).
Please quote reference NM36551 on your application and in any correspondence about this vacancy.