Job Opportunity - Apply by 3rd July 2023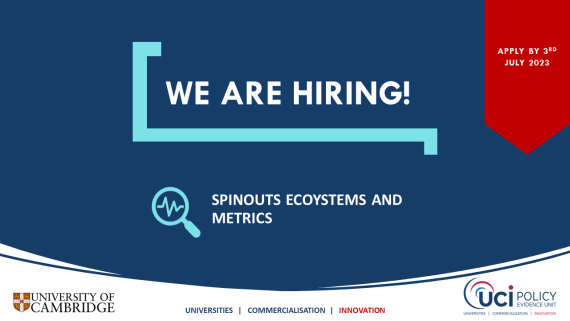 ---
Focus: Strengthening University Spinout Ecosystems and Metrics
Location: Cambridge, UK
Contract term: The funds for this post are available until 31st March 2025 in the first instance, with potential for extension subject to further funding
Salary Ranges: Research Assistant: £28,929- £33,348; Research Associate: £35,308- £43,155
Closing date: 3rd July 2023
---
How to accelerate the production of high potential university spinouts has become a key issue for governments and research and innovation funders in the UK, Europe and elsewhere. It is currently the subject of a major independent review commissioned by the UK's HM Treasury and Department for Science, Innovation and Technology (DSIT). UCI is playing a central role in improving the evidence and insights available for the UK policymakers and for university technology transfer professionals as they seek to develop more evidence-informed commercialisation policies and practices.
About the role
We are now looking for an outstanding researcher with strong quantitative skills and an interest in shaping government policy and university practice to join our expanding team to help accelerate and deliver our work programme focused on improving our understanding on how to accelerate the production of high potential university spinouts.
The work programme involves, among other things:
Developing a prototype national registry of spinouts for the UK and demonstrate its potential value to UK Government, research and innovation funders and stakeholders involved in technology transfer.
Leveraging the data collected to develop and deliver policy-focused insights on key issues.
Working with colleagues across UCI, partners and key stakeholders, develop and validate data collection exercises aimed at collecting high quality evidence on a regular cycle on the spinout emergence and development and the factors and conditions influencing this journey and outcomes.
Developing a prototype dashboard capturing the structure, health, and performance of the UK spinout ecosystem.
The role will contribute to Research England's strategic investments in UCI to develop a national capability for knowledge exchange data, evidence and metrics.
The ideal candidate
The ideal candidate will:
Have a PhD in a relevant discipline or equivalent experience.
Have some knowledge of research commercialisation, entrepreneurial & innovation systems, innovation concepts and processes, science & innovation policy
Have strong quantitative social science and/or data science skills, including an ability to interrogate, integrate and analyse traditional and emerging data sources, and assemble high quality novel datasets able to inform public policy and practice
Be able to communicate complex and technical concepts to non-technical audiences
Be able to work both independently and as part of a team.
Ability to meet deadlines and work under pressure.
Delivering the projects will likely require the successful candidate to become an Accredited Researcher with the UK Office for National Statistics (ONS).
Further information and to apply
For full details and how to apply, please visit the University of Cambridge Job Opportunities page.
For an informal discussion about the roles, please contact Tomas Ulrichsen (tc267@cam.ac.uk). For details about the application process, please contact Geraldine Guceri (gcg22@cam.ac.uk).