Aims and Outputs
The aims of the Emerging Industries Programme are to:
Facilitate the translation of public and private R&D investment into technologies, firms and industries
Support firms in navigating the barriers, inhibitors, timing issues and uncertainties associated with emerging industrial sectors
Support government and public agencies in accelerating the emergence of industries for the optimal benefit of the national economy
The need
The ability to capture value from new industries, based on science and engineering, in which the UK has significant strengths, is becoming increasingly critical. The UK has some of the world's best university research and many small companies with innovative technologies, but these new ideas and opportunities must be turned efficiently into products and services if they are to underpin successful emerging firms and industries.
There have been many attempts to understand the barriers that inhibit the exploitation of new ideas and technologies from the perspectives of science, technology, management and economics, but these efforts have tended to be fragmented, lacking consistent conceptual frameworks, systematic engagement or effective metrics.
Context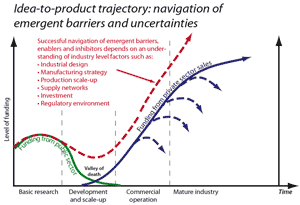 The figure at the right (click on it for a larger version) shows the 'investment cycle' from research to production, and the familiar 'valley of death' that occurs between basic research and commercial operation. Much effort has been focused on reducing the width and depth of the valley. What is often overlooked, however, is the range of other industry-level factors, from marketing, design, production and supply, to investment and regulation, which need to be aligned in order to accelerate the introduction of a product or service.
Outputs
The EIP builds on the IfM's well-established record of supporting both industry and government. The frameworks will provide a common language to underpin more realistic, practical and accessible models of emerging industrial systems.
Tools and techniques have been created for use by industrialists and policymakers in order to understand emerging industries and to develop strategies for intervention, promotion and action.
The outputs of the project will enable better informed policy and investment decisions, improved awareness and engagement with standards and regulation, and the creation of successful evolution strategies at the firm, sector, and industry-level.
EIP network
The programme benefits from the IfM's extensive connections with other research institutions and with key stakeholders in manufacturing in the UK. The EIP network already includes a number of substantial programmes including:
Cambridge Integrated Knowledge Centre's Molecular and Macromolecular Materials project
Regenerative Medicine (REMEDI) Grand Challenge
Innovation and Productivity Grand Challenge
The EIP has worked with other agencies such as the Technology Strategy Board and the Department for Business Enterprise and Regulatory Reform. We are keen to establish new partnerships which can further enhance the programme's contribution to the UK's industrial capability.