Women in Manufacturing events create a buzz at Manufacturing and Engineering Week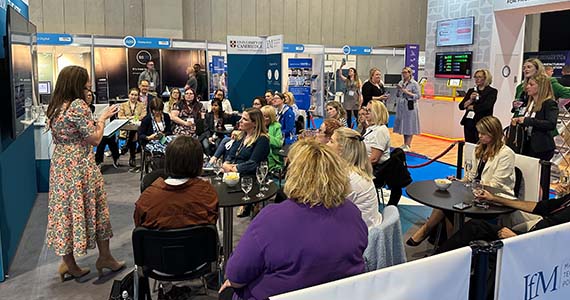 When Manufacturing and Engineering Week took place in Birmingham last week, it brought major actors in the UK manufacturing sector together under one roof for two days of masterclasses, talks and networking events. Among them were three events under the banner of the Women in Manufacturing (WiM) initiative, addressing the underrepresentation of women in the sector.
Women in Manufacturing was launched last year and brings together a community of academics, practitioners and professionals working in the manufacturing field across the UK. Its members are united by the conviction that women's profiles in manufacturing need boosting, and that the field must become more attractive to the women of tomorrow's workforce. With the 'how' still being shaped, Manufacturing and Engineering Week offered a good opportunity to bring the community together and start making concrete plans.
Fostering networks and opportunities
During the first WiM session hosted at the IfM Theatre, members of the UK manufacturing community gathered to exchange ideas and plan for how the initiative can best be used to serve women's interests. Over a dozen delegates joined from across industry and policy, enthusiastically discussing obstacles and opportunities. Preparations for an event in the autumn are underway, and the hope is that much more will follow.
Dr Megan Ronayne, Head of Industrial Technologies and Manufacturing at Innovate UK, introduced a networking event immediately afterwards by sharing some of the challenges she has faced as a woman in UK manufacturing. Among other things, she highlighted the importance of strong professional networks for women and the opportunities to develop them.
AI and gender bias
Supportive networks formed through initiatives like WiM can hopefully help introduce more women to the manufacturing workforce to improve the gender balance. The need for such change is made more acute by recent technological developments whereby the dominance of men in the worlds of tech and manufacturing is manifesting in new ways. AI tools are predominantly developed by men and trained on data that reflect existing inequalities, so their outputs are likely to reinforce biases.
The biases already baked into generative AI applications like DALL-E were made plain to see in the panel discussion 'Gender and Digital Technologies,' chaired by Professor Jillian MacBryde (University of Strathclyde) on the second day of the event. Prompted with the job titles 'CEO', 'Machine learning engineer' and 'Software engineer,' the tool overwhelmingly generated images of men – reflecting the actual gender imbalance in such jobs – only 26% of people working in UK tech are women – but also reinforcing the notion that these are men's jobs. Together with Agnes Wamagui (Innovate UK KTN), Sarah Black-Smith (Siemens) and Sherrie Samadi Rad (Innovate UK), Zoi Roupakia (Institute for Manufacturing, University of Cambridge) participated in the discussion and called for more women to take part in the work to develop the digital technologies we increasingly rely on.
"We are at a pivotal moment where AI systems are starting to make decisions for us. We cannot afford to wait any longer to address the issue of fairness in AI. And fairness in AI is not just about data, algorithms, or metrics; women in tech are a missing key. Time is ticking, and we need their presence now. Initiatives and events like these are essential to raise awareness, forge a community and amplify women's voices," Zoi said, spurring us on to continue to work for women in manufacturing.
Thank you to everyone already involved in the WiM activities – if you would like to learn more about the initiative or want to get involved, please contact Ella Whellams on erd30@cam.ac.uk and join the Innovate UK-led LinkedIn group 'Inspiring Women in Manufacturing'
Date published
16 June 2023
Related People
Share This