'Where there is light, there is shadow' EPSRC photo competition winner
Jon Parkins, third year PhD student in the Centre for Industrial Photonics, part of the Centre for Doctoral Training in Ultra Precision Engineering, has been announced as the EPSRC Science Photo Competition entry winner for the Innovation category (Images of research that have inspired innovation or are related to commercial breakthroughs) achieving first place in the group.
His image is entitled 'Where there is light, there is shadow'. The image shows engineering PhD student Karen Yu working on the ultra-precise ultrafast laser system developed by the EPSRC Centre for Innovative Manufacturing in Ultra Precision. Extremely small, well controlled features can be created using ultrafast light pulses. These light pulses occur on a timescale faster than heat can pass between the atoms of the material, resulting in very little heat damage to the surrounding areas.
In this image, a piece of glass is being processed with a high power ultrafast laser. This causes very bright plasma to form. The glass block channels the light through its sides resulting in a bright white glow emanating from the processing area which casts shadows around the room.
To view a larger image, please click here or on the image below.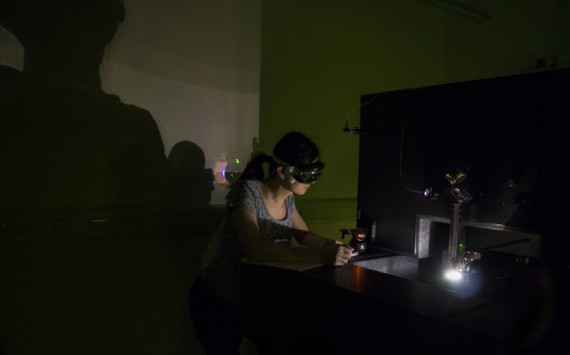 Date published
22 March 2016
Related People
Share This