Upcycled Toy Design received Best Creative Business Award at Bangkok Design Week 2019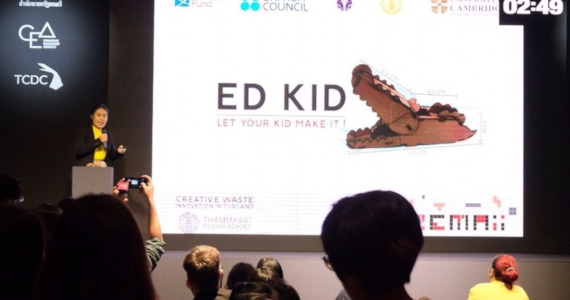 A successful year-long IfM project in Thailand, Creative Waste Innovation Hub, led by Dr Curie Park had an exciting finale when one of the local project teams received the Best Creative Business Award at Bangkok Design Week.
The Creative Waste Innovation Hub has investigated real-world innovation ideas to transform intractable waste materials into high-value resources for circular economy businesses for local entrepreneurs. This project was in collaboration with Thammasat University and three local manufacturing SMEs who were trying to improve waste management.
As a part of the final stage of the project, 'Commercialisation', the selected three innovations had the opportunity to present at an investment pitch during the Business Networking Event (1st Feb 2019) as a part of the Bangkok Design Week 2019.
Remai team (Team leader: Kanyaluck Muktana-a-nan) presented Ed-Kid, a DIY puzzle toy upcycled HDF waste from an automobile part production (NS Group). Using the narrow offcut pieces from the production, the team developed small parts that children can assemble into buffalos and rice paddies symbolising the 'Thai agriculture scene'.
Among the 13 presentations, Ed-Kid was voted as one of the top three Best Creative Business Awards 2019. The vote result from the 440 public audience members demonstrated the positive social recognition of the waste issues in Thailand and the value of upcycling. The recognition is particularly noteworthy in the specific cultural context in which reusing waste is rather tabooed.
Another innovation concept from the project has been successful in winning a further funding: GCRF Global Impact Accelerator Account Impact Fund for further implementation. Thanks to this funding, 'Glasstic' (plastic PE waste and glass composite) will be taken forward to tackle the marine plastic issues in the beach community in Pattaya area, Thailand.
The report containing the systematic waste innovation mechanism developed through this project, and exciting case studies, is coming soon.
Date published
25 February 2019
Related People
Share This