TIGR2ESS programme shaping policy for agri-business in Punjab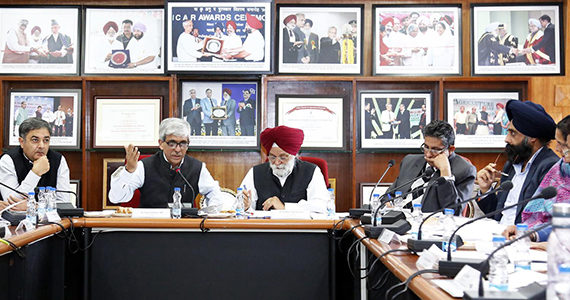 On Thursday 5 March 2020 TIGR2ESS Flagship Project (FP) 5 held a workshop on policy interventions for agri-business in Punjab. This event, held at Punjab Agricultural University (PAU), Ludhiana, was co-hosted by key members of FP5, Dr Sandeep Kapur (PAU) and Dr Jag Srai (University of Cambridge), and chaired by PAU Vice Chancellor Dr BS Dhillon. In attendance were key state government officials, including Suresh Kumar (Chief Principal Secretary to the Chief Minister), Viswajeet Khanna (Additional Chief Secretary, Development), and leaders from the major state Farmer Producer Organisations (FPOs) and Cooperatives.
Draft policy interventions were discussed in detail with key state government officials, with a view to finalising a policy document over the next few weeks for approval in the second quarter of 2020. Crucially, it was recognised that the policy should reflect the need to develop agri-business supply chains, connecting agricultural producers at scale with suppliers and end-user markets.
A state-level policy intervention would provide much-needed support to establish new FPOs, which currently face multiple challenges during the early stages of business incorporation. Such a policy could address issues surrounding the verification of producers, land records and ownership, and payment to suppliers. FPOs, with state-level backing, also have the potential to address a lack of resources available to farmers, high-input costs and a lack of early-stage market linkages.
As a direct result of this workshop, Dr Kapur, Dr Srai and Mr Puneet Thind (representing several FPO organisations in Punjab and surrounding states) have been tasked with developing an integrated proposal for developing agri-business in Punjab covering the formation of farmer coalitions, value-addition through downstream processing, and market access. The policy, if implemented, would encourage the development of agri-tech and digital platform technologies in the state. This will improve transactional and scale efficiencies and enable the production of high quality products better able to compete in international markets.
Find out more about TIGR2ESS (Transforming India's Green Revolution by Research and Empowerment for Sustainable food Supplies)
Photo credit: Punjab Agricultural University
Date published
13 March 2020
For further information please contact:
Related People
Share This