The Worshipful Company of Engineers' visit to the Department of Engineering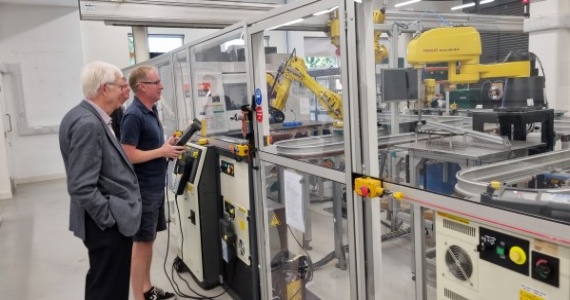 We were privileged to be visited by The Worshipful Company of Engineers (the "Company") on Friday 16 September as part of their Annual "Out of Town" Weekend. This Out of Town Event was organised by the Master of the Company. The current holder of that title is Cambridge Engineering and Churchill Alumna, Audrey Canning MA CEng FIET FRSA MSaRS MIO. The Friday is always spent on a technical day for members of the Company. Cambridge was also an appropriate destination as the Company has previously supported Cambridge PhD students through its Leete Awards, for which the Department is very grateful. Through its charity, the Engineers Trust, the Company donates to a wide range of awards and prizes, primarily for younger engineers and apprentices.
The group visited the Institute of Manufacturing (IfM) for a morning of presentations and mini tours. They heard an introduction to the IfM from Professor Richard Prager, Head of Department at Engineering, explaining the wider multidisciplinary hub nature of the Department of which the IfM is a part. The introduction gave a flavour of the history of key innovations emanating from the IfM and the three core activities (Research, Education & Application/Consultancy) and examples of current projects with various commercial clients, partners and spin outs.
Dr Florian Urmetzer, and Professor Ronan Daly gave an overview of the structure of the undergraduate and master's qualifications with their strong focus on industrial projects of practical relevance carried out at the sites of industrial partners. Professor Daly explained the IfM's scientific methodology applied to technology scale-up, particularly for smaller spinout enterprises, with several recent examples of the approach in practice.
There was then a tour of the Robotics Lab and a visit to one of the undergraduate project rooms with various poster displays of recent projects.
The group walked down the road to the Material Science & Metallurgy Department where they heard firstly from Professor Howard Stone and Professor Nick Jones regarding the development/transformation of novel super alloys, controlling crystal structures in single crystal turbine blades and additive layer manufacturing.
This was then followed by Professor Chris Pickard and Dr Bartomeu Monserrat presenting their research utilising quantum mechanics and AI to streamline the development of new materials with specific targeted properties.
These presentations were followed by a tour of the Process Laboratories and Workshops. The labs and workshops are very impressive with an extensive range of furnaces, casting and metallurgical handling equipment and a complete suite of X-ray and electron microscopes including the brand new Spectra 300 Scanning Transmission Electron Microscope which was just reaching the end of its commissioning period and whose configuration and abilities make it the only one of its kind in the UK.
For an update on the WCE Leete Award sponsored students and more details about the visit, see: http://www.eng.cam.ac.uk/news/worshipful-company-engineers-visit-department-engineering
Date published
9 January 2023
Related People
Share This