The Regenerative Laboratory: A new era in manufacturing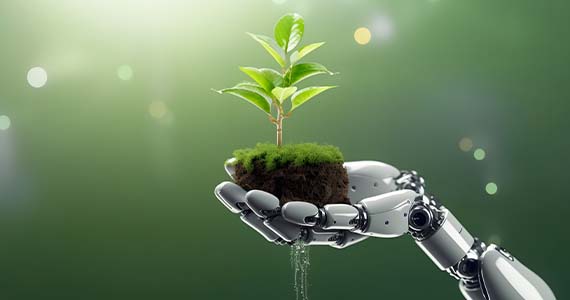 The IfM's Centre for Industrial Sustainability has launched the Regenerative Laboratory – an initiative aimed at helping manufacturers transition to a regenerative operations model, and is actively looking for collaborators.
Our planet is in dire need of healing. At the current rate of emissions, we cannot expect to limit global warming to the target of 1.5 degrees set out in the Paris Agreement. Billions of people are exposed to polluted air every day, and the nutritional value of crops has declined over the years.
Thankfully, there are solutions to these problems, but it will take innovation, collaboration and commitment to overcome them. Professor Steve Evans and Commercial Director Ian Bamford in the Centre for Industrial Sustainability predict that in the next 10 years, regenerative manufacturing will overtake industrial sustainability as the big topic in our sector. To help this shift along, they have launched the Regenerative Laboratory as a seedbed for the innovative solutions that a healthier planet will require.
When Steve and Ian started working on industrial sustainability at the IfM 12 years ago, they were pioneers in a field that still appeared niche to many manufacturers. Today, sustainability is mainstream. Manufacturers are proud of their sustainability credentials while social and political pressures have made sustainability a top priority in industry and elsewhere. Consumers expect it, and consumer expectations have helped crystalise the new picture that Steve and Ian can see emerging – the move towards regenerative manufacturing, driven by a desire to leave the planet a better and healthier place than we found it.
"Not all products marketed as regenerative actually are, but the desire to brand them as such is telling," says Steve. "What it is telling us is that manufacturers recognise that we are too far gone to continue manufacturing practices that merely avoid adding to the burden of pollution and natural deterioration. It is no longer enough to return resources to the toxic or depleted state we found them. We must improve them."
To find out what manufacturing can do to improve air, soil, and water health, and eliminate the carbon footprint of the sector, the Regenerative Laboratory cannot rely on a one-size-fits-all solution – input from different people and companies with different expertise is essential. The initiative will use the factories of partnering manufacturers as laboratory spaces and build on research and best practices from pioneers in the field to find tailored solutions for different companies.
"We are dealing with a sick patient – we can't just try to stop their health getting worse, we must try to make them well," is the metaphor Ian uses to describe the current state of the planet.
Steve adds: "When you buy an organic carrot, you expect it to be free from pesticides and synthetic fertilizer and therefore healthier than a non-organic carrot. The only promise the farmer makes, however, is not to add anything toxic to her crops. The actual health of the soil remains unknown."
The Regenerative Laboratory initiative brings researchers and industry experts together – in typical IfM fashion – to redefine sustainability as a proactive practice. To encourage greater uptake across industry, the initiative will identify ways to reduce the financial risk associated with adopting a regenerative model. It will also endeavour to understand how the manufacturing sector will change over the next decade and how to prepare for it. To help with those challenges and more, collaborators from a diverse range of academic, industrial, business, policy and general backgrounds are needed.
"We are already finding core principles that work for all and can guide local solutions," says Steve. "But, it is still early in our shared journey to a regenerative manufacturing system. We need to learn together."
If you want to be part of the shift to regenerative, please get in touch with Steve or Ian:
Steve Evans: se321@cam.ac.uk
Ian Bamford: imb31@cam.ac.uk
Read more about the initiative here.
Date published
13 October 2023
Related People
Share This