Sustainable Value Innovation course held in Norway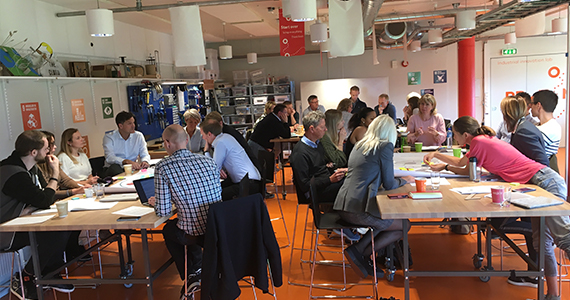 Dr Doroteya Vladimirova and Ian Bamford from the Centre for Industrial Sustainability led a two-day course on Sustainable Value Innovation at the Norwegian Centre of Expertise iKuben in Molde, Norway.
The NCE iKuben is a cross-industrial cluster that facilitates business development, with a special focus on digitalization, sustainability and new business models for the Norwegian industry. Delegates from sixteen companies, members of the cluster, joined this intensive workshop. All sectors were represented, from private business to academia, research and the public sector.
Three of the participating companies – Brunvoll, Cinderella Eco and Glamox – put forward a challenge from their company as a real-world case study. The three challenges were forensically examined by all participants in the workshop through the lenses of the Value Explorer and the Sustainable Value Analysis Tools developed at the Centre for Industrial Sustainability.
The participants left with several a-ha experiences and new ideas and proposals they could take back to their businesses.
Date published
29 November 2019
For further information please contact:
Doroteya Vladimirova
T: + 44 (0) 1223 764663
Related People
Share This