Semiconductor study results to be disseminated across UK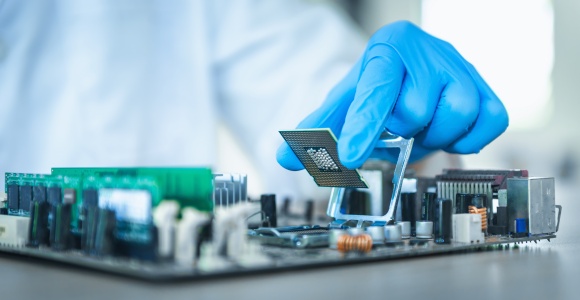 The IfM Engage consortium has been commissioned by the Department for Science, Innovation and Technology (DSIT) to undertake a study into infrastructure to grow the UK semiconductor industry and a new strategic coordination function for the sector. Five capabilities are being considered as part of the proposed initiative:
Silicon manufacturing capability to support prototyping
Advanced packaging capability
Compound open-access foundry capability
Design IP/tooling capability
Strategic coordination capability that would provide an institutional framework around the infrastructure components
Over the last six months, the IfM Engage consortium has engaged with industry and academia to collect data to assess the semiconductor infrastructure requirements to assist commercial R&D and strategic coordination for the UK semiconductor industry. Surveys were conducted with over 140 organisations to assess their current provision and infrastructure capabilities, followed by workshops to validate the survey findings.
Now that the data has been analysed and validated, a series of presentations on the emerging findings will be conducted in six key semiconductor clusters around the UK: Northern Ireland, Scotland, the North East, Bristol, South Wales and Cambridge. These engagements aim to:
Present and discuss the current outputs from the work so far
Discuss the emerging potential interventions
Confirm the identified barriers and how those interventions can help address those
Where possible, discuss with current infrastructure providers on the existing infrastructure utilised and where the gaps are (if any).
The information gathered will showcase significant fields of interest, including the infrastructure, equipment, knowledge, market accessibility, and supply chains that are available in the UK. It will also pinpoint the competitive edge that the UK must cultivate in these areas, as well as the barriers and difficulties that could impede the development of these advantages.
Semiconductor UK Tour:
South Wales:
26 September
CSA CATAPULT INNOVATION CENTRE
Imperial Park
Innovation Centre
Celtic Way
Newport, NP10 8BE
12:30pm

Northern Ireland:
5 October
Seagate
Springtown Industrial Estate,
Londonderry BT48 0LY

North East:
11 October
Coherent
Millennium Way,
Newton Aycliffe DL5 6JW
10am-12:30pm

Scotland – 16-17th October [location tbc]
Bristol - National Composites Centre [date tbc]
Cambridge – [date and location tbc]
These events are free and open to all stakeholders interested in the outcomes of the semiconductor sector study, including semiconductor companies, original equipment manufacturers (OEMs), academic institutions and other end users of chips in dependent sectors critical to the future UK economy, such as automotive, AI, telecoms, and quantum.
---
Please email Dr Nicky Athanassopoulou (naa14@cam.ac.uk) for more information.
Consortium Partners
The project is led by IfM Engage in collaboration with CSA Catapult, TechWorks NMI, Silicon Catalyst, Photonics Leadership Group, Cambridge Econometrics, Semiwise Ltd, Imperial Consultants, Future Horizons and the University of Leeds.
Date published
6 September 2023
Related People
Share This