Royal opening for IfM's Alan Reece Building

The Chancellor of the University of Cambridge, HRH Prince Philip, Duke of Edinburgh, today officially opened the IfM's new home, The Alan Reece Building.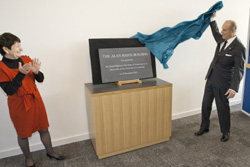 Chancellor unveils plaque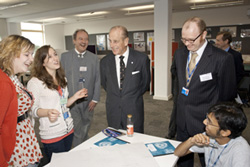 Chancellor meets the METs
The Chancellor was greeted by the head of the IfM, Professor Mike Gregory, who introduced him to the institute's main benefactor Dr Alan Reece. Vice-Chancellor Professor Alison Richard also attended the special ceremony.
Opening the building the Chancellor, the Senior Fellow of the Royal Academy of Engineering, said he had a special relationship with the University engineering department.
"I opened the Department of Engineering (in 1952) and seem to have been opening things ever since," he joked.
Around 500 people packed into the common room to watch the Chancellor unveil a plaque to commemorate the event.
The Vice-Chancellor paid tribute to Professor Gregory and his team of "entrepreneurial academics" for delivering such a prestigious building.
She said: "This building is extending the breadth of what we do at Cambridge University. There is no more vivid a model of linking academia with the needs of society than the Institute for Manufacturing."
"Since I became Vice-Chancellor 6 and a half years ago I have been on an incredible journey with the IfM, which has seen it accomplish so much."
She also paid tribute to the amazing generosity of Dr Reece, founder of Pearson Engineering, whose philanthropy, along with donations from the Gatsby Foundation and local industry made the building possible.
Professor Gregory, head of the IfM, said the opening was timely just as manufacturing was becoming popular again and was being placed firmly at the heart of policy. Before the ceremony Professor Gregory took the Chancellor on a tour of the IfM. Prince Philip was introduced to Manufacturing Engineering students at work in the IfM's Design studio and the Automation Lab before seeing the facilities in Photonics.
The Chancellor was introduced to the heads of the IfM Research centres and members of the IfM's education and consultancy team. He also took time to chat with the heads of the institute's teaching staff.
The IfM moved from its cramped former home in Mill Lane to its new £15m home in June this year. The IfM, a division of the Department of Engineering, brings together expertise in management, economics and technology to address the full spectrum of industrial issues.
Its activities integrate research and education with practical application in companies, providing a unique environment for the creation of new ideas and approaches to modern industrial practice. The IfM works closely with industry, at a regional, national and international level, providing strategic, technical and operational expertise to help companies to grow and to become more competitive.
The new building is a major addition to the University's West Cambridge campus for science and technology. It joins an existing concentration of related research centres, as well as the Hauser Forum, a focal point for entrepreneurship and technology transfer.
Date published
19 November 2009
Related People
Share This