Rolls-Royce Director of Manufacturing, Dr Hamid Mughal gives inspiring talk at the IfM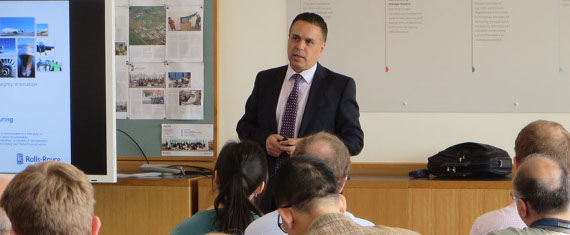 Dr Hamid Mughal, Director of Manufacturing at Rolls-Royce, visited the IfM this week to share his thoughts on UK manufacturing.
Researchers, students and practitioners from around the IfM gathered in the common room to hear about Dr Mughal's views, experience and lessons learnt. In his inspiring talk, he explained what has made UK manufacturing successful in the past and what challenges we are facing now and in the future. A recurring theme was standards and how they can support manufacturing businesses in becoming more successful.

Dr Mughal passionately believes in the social and economic value of manufacturing. He has extensive experience in the field, particularly in the automotive and aerospace industries, and holds several degrees in Engineering and Management as well as a doctorate in Manufacturing Systems. He is Pro-Chancellor of the University of Nottingham and External Professor at Cranfield and Sheffield Universities.

Dr Mughal has been awarded an OBE for services to Innovation, Technology and Manufacturing and has won the IET's International Manufacturing Gold Medal, among other achievements.
Date published
6 October 2016
Related People
Share This