Resilience and Sustainable Development Programme (RSDP) leads bootcamp for youth leaders for Dhaka OIC Youth Capital 2020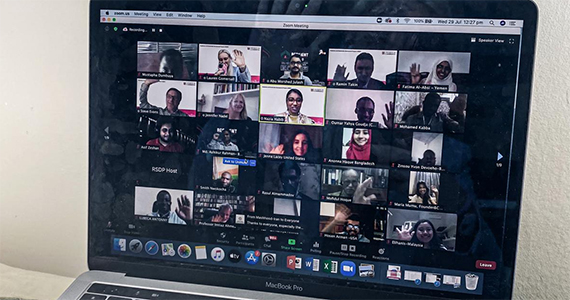 On 29 July, the Resilience and Sustainable Development Programme (RSDP) led a virtual bootcamp for more than 200 youth leaders from 74 countries in order to train these future leaders in the application of systems thinking to address humanitarian policy challenges.
RSDP was invited by the Bangladesh Ministry of Foreign Affairs, in partnership with the Bangladesh Ministry of Youth and Sports, Islamic Cooperation Youth Forum (ICYF), United Nations High Commissioner for Refugees (UNHCR) and the International Organization for Migration (IOM) to arrange the event, in the context of Dhaka's place as the Organisation of Islamic Cooperation's (OIC) Youth Capital 2020.
The event focused on the topic of how to safely repatriate Rohingya refugees, which participants tackled through interactive group systems design thinking exercises and creative decision-making applications. The RSDP team developed multiple dynamic decision-making frameworks to improve individuals' critical thinking ability on complex issues such as the refugee crisis.
Participants were first trained in the methodologies developed by the RSDP team. The methodology combines engineering technique – namely systems design – with creative thinking and geopolitical theories on repatriation. The event was conducted as a live online virtual meeting, with participants able to participate in group exercises through breakout rooms. During the three-hour session, participants developed numerous potential solutions and submitted 90 proposals for approaching the issues.
The event was chaired by Dr Nazia Habib, Research Director of RSDP. Dr Habib was joined by Professor Steve Evans, and other RSDP fellows along with other global experts on Rohingya refugees, Bangladesh, and from UNHCR, IOM, and Dhaka University. They were also joined by Bangladesh's Foreign Minister Dr AK Abdul Momen, who praised the event as 'a good opportunity to discuss ways and means for charting a course for the future'.
Bangladesh has been hosting Rohingya refugees on its border since 2017. Nearly one million displaced persons from Rakhine State of Myanmar are living in overcrowded temporary makeshift shelters in the southeastern part of Bangladesh to escape mass state violence.
The UN Human Rights Council, acting under UN Resolution 34/22, has cited this as a crime against humanity and called for an investigation for genocide against the authorities in Myanmar. On 14 November 2019 the International Criminal Court took a decision to authorize an investigation into alleged crimes committed against Myanmar's Rohingya population.
While that international process is in place, the COVID-19 pandemic brings a real danger not only for the displaced populations but also for the host countries, which face challenges of their own and where resources can be limited.
During the concluding session, UNHCR Country Representative Steven Corliss praised the application of systems design to geopolitical discourse, commenting on how participants were able to humanise refugee concerns within the context of the geopolitical systems failures and focus on finding solutions by analysing socio-economic mechanisms.
According to Mofidul Hoque, founding trustee of the Liberation War Museum of Bangladesh and Centre for the Study of Genocide and Justice, the participants managed to narrow down demands of thousands of voices into coherent challenges.
Prof Imtiaz Ahmed of Dhaka University's (DU) International Relations department reminded the participants that it takes time to work through geopolitical solutions, and the need to continue to collaborate and cooperateis of the utmost importance.
About the Resilience and Sustainable Development Programme (RSDP)
The RSDP is a multidisciplinary research team focused on three of the most dynamic areas of inquiry that are critical in shaping our world. These three topics are pillars to achieving resilience and sustainable development: a. good governance, b. sustainable investment, and c. responsible innovation.
The RSDP research team integrates engineering methodologies such as systems thinking approaches with social science theories to improve decision making processes, combining their respective expertise to unlock socio-political level systems resilience and identify value creation pathways to improve equitable sustainability.
The founding director of RSDP, Dr Nazia M Habib, FRSA trained as a political economist from the University of Cambridge, holds multiple fellowships including the prestigious Sustainability Science fellowship at Harvard, and specialises in applied resilience and sustainability scholarship. Prior to founding RSDP, she was one of the founding university lecturers for the MPhil in Public Policy degree programme at Cambridge.
The RSDP team works closely with national governments, local knowledge partners and civil societies to co-create solutions while training the participants in innovative methodologies such as Policy Simulation Labs (PSL).
Date published
13 August 2020
For further information please contact:
Related People
Share This