Prize-winning agri-tech entrepreneurs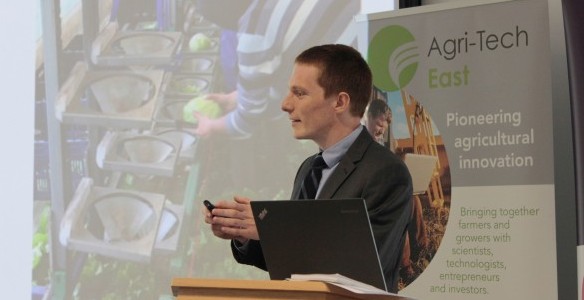 Armand de Durfort has won Agri-Tech East's GROW student competition with his automatic harvester, Softharvest. Armand has just completed his MPhil in Industrial Systems, Manufacture and Management at the IfM. Doctoral student, Arsalan Ghani, was also a finalist with his food-sharing platform, Share Your Foods.
Agri-Tech East set up GROW to encourage entrepreneurship in the agri-food industry. Armand and Arsalan saw off stiff competition from entrants from across the UK.
Softharvest: gentle automatic harvester allows just-in-time picking of lettuces
Softharvest provides automated harvest of lettuces using visual recognition to control the robotic picker and prevent damage to the delicate plants.
Harvesting represents 60% of the cost of production for a lettuce crop and is generally done by hand. The challenge for a robot is accurate identification of the lettuce and then to pick it without bruising the leaves. Automating this process with Softharvest would pay for itself in three years and offer harvesting of three main crop lettuces: iceberg, Romaine and green leaf.
The venture started as a research project at the bio-inspired robotics laboratory of the University of Cambridge in collaboration with G's Growers, which harvests 3 million heads of iceberg a week. Softharvest would allow lettuces to be picked to order with a fast turnaround, allowing producers to meet tight deadlines.

Share Your Foods: food sharing platform connects the supply with demand
Arsalan was a finalist in the student competition with Share Your Foods, a food-sharing platform which will allow producers, retailers and mass caterers with an excess of produce to reach potential consumers directly. This would address the issue of avoidable food waste, which is currently valued at £12.5 billion in the UK.
Photo credit: Agri-Tech East
Date published
29 June 2016
Related People
Share This