Open Innovation Forum April meeting: Exploring collaborative R&D
The April 2019 meeting of the Open Innovation Forum focused on the theme of delivering health and well-being, and was hosted by Walgreens Boots Alliance at the Boots HQ in Nottingham.
The OI Forum is a consortium of major food and drink companies who regularly come together to consider strategic and collaborative approaches to innovation. The group spans the supply chain in food and FMCG, from ingredients and materials through processes and technology, to brand owners and retail. It brings together multinationals as well as researchers.
The meeting in Nottingham enjoyed active participation from over 60 attendees from the Forum member companies and guests from CAMST, UKRI, Nottingham University, MINTEL, BBSRC, EIT Food, Hudson Institute, Kerry Health & Nutrition and Nutri2Go. We were also delighted to welcome Rabobank, Queen's University Belfast and the MTC as members of the Forum.
Focus on health and well-being
The focus for the event was delivering health and wellbeing - a very appropriate theme given the heritage of innovation in this area at the hosts: Boots. This relates to one of the 'Top 10' opportunity areas identified in the most recent OI Forum Roadmap.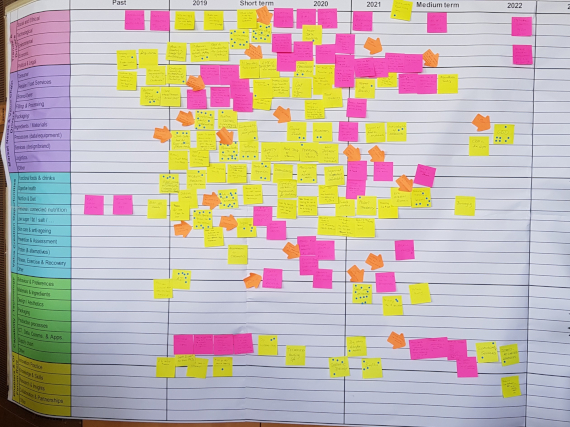 Alongside this, the group explored the theme of 'Building and funding the collaborative R&D consortium', with a range of speakers from innovation funders and providers to illustrate the tremendous scope available within the UK and European landscape.
The member case studies on collaborative R&D highlighted the benefits of externally-funded projects with universities and research and technology organisations (RTOs), with recurring success factors including clear goal alignment, senior management buy-in, and focus on good communications between partners and strong project management.
The next OI Forum, including start-up pitching event
We are delighted to be hosting our next Open Innovation Forum alongside the Food Tech Matters conference in London on 25-27th June 2019.

As part of the conference, on Wednesday 26th June we will be running a pitching session to find the best innovation and tech to drive the end-to-end sustainability of the whole sector. This pitch session is a unique opportunity for innovators and technology spin-outs, start-ups and SMEs to pitch their ideas or business to some of the world's largest food, drink and FMCG companies.
https://www.ifm.eng.cam.ac.uk/events/food-tech-matters-2019/
Six pitching slots are available, and applications close on 24th May.
Date published
30 April 2019
Related People
Share This