New study for the Government Office for Science explores opportunities for UK modern industrial biotech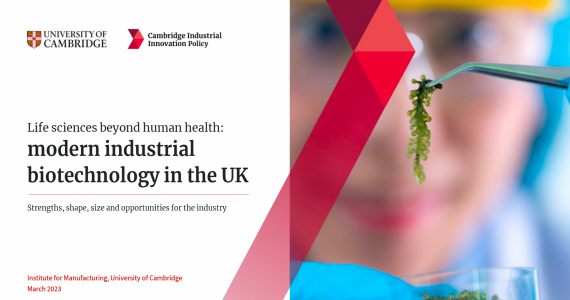 A new study commissioned by the Government Office for Science (GOS) to inform the work of the Government's Chief Scientific Adviser, Sir Patrick Vallance, has been published by Cambridge Industrial Innovation Policy.
The report, 'Life sciences beyond human health: modern industrial biotechnology in the UK' seeks to map and characterise the UK non-human health life science sector.
Building on the evidence base on the benefits of strengthening the UK non-human health life sciences sector in terms of economic, social and environmental gains, co-author David Leal-Ayala says: "We hope the report is a first step towards better understanding and informing strategic thinking on the opportunities for the modern industrial biotechnology sector in the UK over the coming years."
Sir Patrick Vallance, Government Chief Scientific Adviser, said: "I welcome this report for shining a light on UK biotech beyond healthcare. It provides an important evidence base for government as it seeks to understand growth opportunities in this exciting and wide-ranging sector."
Key findings from the report include:
Life sciences not addressing human health could more helpfully be referred to as 'modern industrial biotechnology' (MIB). It is suggested that this could help to avoid misconceptualisation by those who understand the life sciences as purely related to human health - a common definition and once recently used within many current government policy documents.
The UK's strong life sciences base offers a window of opportunity to establish technological leadership and capture economic and societal value from modern industrial biotechnology. This opportunity is not only enabled by the strength of UK life sciences R&D but also by the ecosystem of technical service firms, suppliers and specialist equipment vendors which evolved to support the health life sciences sector but are also source of important capabilities and potential competitive advantage for modern industrial biotechnology.
30% of firms in the UK life sciences sector can be classified as biotech. Of these, 51% can be classified as "R&D services"; 34% as "biotechnology therapeutics and diagnostics"; and 15% as "modern industrial biotechnology".
Modern industrial biotechnology firms are diverse. The main sub-sectors include: agriculture (22%); veterinary (18%); food (14%); nutraceuticals (12%); industrial processes (8%); environmental (8%); cosmetics (7%); and other (11%).
Modern industrial biotechnology firms in the UK account for a total turnover of £4.7 billion. Biotechnology firms classified as "R&D services", which provide services to both human and non-human health life sciences, account for £31.9 billion in turnover in comparison.
Today, the UK is seen as having excellent, world-leading research in this area, albeit with lower success in commercialisation and scale-up of related technologies. This is in part attributed to infrastructure, skills and the availability of venture capital – an assessment that has remained relatively consistent across the past decade.
There are several broad areas in which the UK may have strengths and may be able to develop competitive advantage. These include: agribiotech; food and; commercial genomics for well-being; animal health; and underpinning technologies and platforms.
Download the full study here.
Date published
28 March 2023
Related People
Share This