New Partnership Between IfM and EEF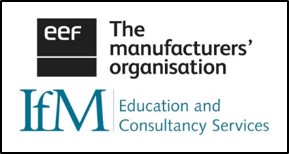 We are pleased to announce a new partnership between IfM Education and Consultancy Services and EEF, the manufacturers' organisation.
The two organisations have closely aligned objectives and shared values, both working to promote UK manufacturing organisations. As an Affiliate Partner, IfM ECS will be collaborating with EEF on a range of activities, including events, resources and member support.
IfM ECS members are entitled to complimentary affiliate membership of EEF, with access to a range of EEF resources. These include:
Online Resources: extensive online resources, covering such areas as industry insights, employment law, health, safety and the environment and financing growth.
Representation: EEF represents UK manufacturing for development of policy. Members are encouraged to contribute views by participating in surveys.
EEF 'Advantages': a portfolio of products and services offered by approved EEF partners, including discounts on business services, healthcare, insurance, employee benefits and more.
Funding Finder and Lean Benchmarking tools: online tools to support businesses seeking to finance a new project or want to improve productivity and profitability.
To register for these benefits, please complete the form here. Please make sure to state that you are a member of the IfM.
Problem Solving Network
Additional resources provided by EEF include the Problem Solving Network, an online community for discussing practical solutions to real world business challenges.
IfM researchers will be contributing expertise to the forums on the network.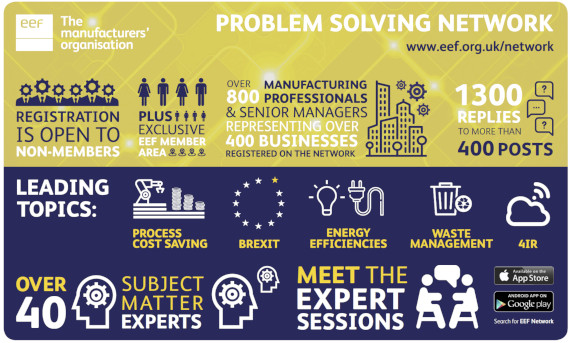 Collaborations on Events, Networks and More
We also hope to co-host events on topics of importance to UK manufacturers, with the ability to draw on expertise from EEF economists and IfM researchers. Working with other affiliate partners and industry organisations and the academic community, these can further strengthen networking potential and extend industry reach, adding value for members.
Both the IfM and EEF are proactively working with government bodies to provide expertise and knowledge for policy makers. Input from members of both organisations helps to inform this process, and we are keen to facilitate open discussion through events, surveys and networks.
Tim Minshall, Dr John C Taylor Professor of Innovation and Head of the IfM, commented:
"We are delighted to be cementing our long-term relationship with EEF into a formal Affiliate Partnership, providing deeper value for our members and enabling both organisations to promote UK manufacturing even more effectively through a range of collaborative activities."
Charles Garfit, EEF's Membership Engagement Director, said:
"We are very much looking forward to working more closely with IfM ECS, and welcome them as new Affiliate Partners. Our shared values and complementary strengths give us an excellent platform for coordinating our efforts to support UK manufacturers."
Date published
20 June 2018
For further information please contact:
Related People
Share This