New Open Innovation Forum in Health is launched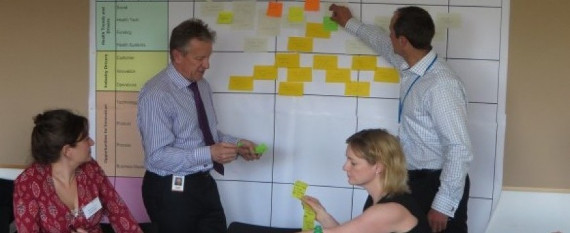 The Open Innovation Forum in Health was launched with a full-day workshop at the IfM looking at open innovation (OI) skills and trends and drivers in the health sector.
Potential members attended the event on May 15 from across the health industry, including participants from GSK, Pfizer, Astra Zeneca, Fujitsu, Spire Healthcare, Procter and Gamble and Suntory. The workshop was preceded the night before by a networking dinner at Christ's College.
The forum is designed to help companies across the sector – and from all stages of the value chain – develop their OI strategies and practices by providing structured support and collaborative opportunities.
It is for companies from across the pharmaceutical, medical supplies, medical equipment, healthcare services, nutrition and diagnostics, personal care and fitness sectors.
Members can share best practice, explore 'hot topics' along the health market value chain and, if appropriate, take part in accelerated OI collaborations. The OI Practice Self-Assessment model allows both individuals and companies to assess the maturity of their current OI practice and to identify which aspects of OI practice are most important in their own context and which are most challenging to achieve.
The group will gather three times a year to attend workshops hosted by members, with a typical agenda including a plant tour, discussion and self-evaluation of current OI practice and an exploration of health 'hot topics'.
Networking and engagement between workshops enables continued sharing of experiences and the possibility of starting spin-off projects between the group in order to further benefit their businesses.
IfM Education and Consultancy Services (IfM ECS) has been running the successful Open Innovation Forum in the Food and FMCG Value Chain since 2010. Forums are run by experienced practitioners from IfM ECS with input and insights from researchers at the IfM.
Date published
30 May 2014
Related People
Share This