New head of SME support team for ECS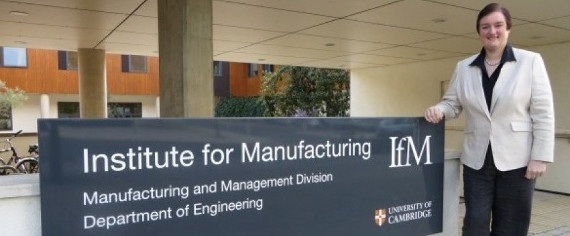 Dr Karen Smith has joined IfM Education and Consultancy Services to lead its work helping SMEs to develop and grow their businesses.
Karen, the new Head of Sector Development and SME Business Support Unit, takes over from Dr Derek Ford, who is retiring. Karen joins from University College London (UCL) where she was the Director of Bioprocess Leadership at the Advanced Centre of Biochemical Engineering.
Karen has extensive experience in developing strategic, high-value relationships with stakeholders including companies of all sizes, academic institutions, government bodies, knowledge transfer networks, professional institutions and sponsors.
While at UCL, Karen was key in creating a ground-breaking executive programme called VISION from scratch and doubling the number of delegates on the award-winning Modular Training Programme for the Bioprocess Industries. She was closely involved in leading knowledge exchange, dissemination and outreach initiatives and she developed collaborative relationships with stakeholders across the whole bioprocessing supply chain.
Prior to joining UCL, Karen was Head of the Partnership Group at the University of Cambridge, bringing together unique strengths across many faculties to create a multi-disciplinary centre of excellence in research and teaching, working with corporate partners to build mutually beneficial relationships. In conjunction with Dr Gos Micklem, Karen was responsible for setting up the Cambridge Computational Biology Institute and was its Executive Director.
Karen was previously a management consultant specialising in acquisitions and alliances at IMS Health Inc. and Ernst & Young LLP, working with a wide range of multinationals and SMEs. She holds two Masters degrees and a PhD from Emmanuel College, Cambridge.
Karen said: "I would like to thank Dr Derek Ford, who is retiring from the role, for his work in building and leading the team to this exciting point. There is now an opportunity to build on this significant body of work and deliver further high-impact support to firms that will transform their ability to grow and compete."
The team at ECS supports SMEs across all sectors by helping to identify their priorities, develop strategies for the future and build capabilities in key areas. It is expanding its support in specific industry sectors, most recently in the aerospace and civil nuclear sectors, while Karen brings expertise in biotech and pharmaceuticals.
ECS provides support through programmes such as PrISMS, which aims to transform the sustainable growth prospects of 120 start-ups and smaller manufacturers, and Sharing in Growth, a £110m programme to raise the capability of 30 to 40 UK aerospace suppliers to share in the anticipated growth of this global market and other associated high value manufacturing sectors.
CEO Peter Templeton said: "IfM ECS' Sector Development and SME Business Support Unit is at an exciting point in its development. Our business prioritisation and strategy development tools – delivered by our team of high-calibre Industrial Fellows – have been demonstrated to help a wide range of small and medium-size firms to grow revenues and profitability.
"Karen brings deep expertise in important industries, alliance development and the commercialisation of research that will help the Unit to increase the value it provides to support industry sector- and supply chain-development, and to individual firms."
Date published
25 September 2014
Related People
Share This