New briefing on business models to help adoption of sustainable technologies

A new briefing on how innovative sustainable technologies can be spread to make an impact on global warming and resource scarcity has been released.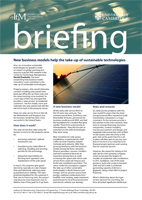 'New business models help the take-up of sustainable technologies' is based on research carried out by Harold Overholm, a PhD student in the Centre for Technology Management at the IfM.
The research also suggests that support from policymakers is beneficial to both parties, as it can help the latter reach their 'green' goals.
Click here to view the Briefing
Date published
7 March 2013
Related People
Share This