MET I Student George Hutchinson receives STEP Award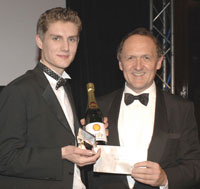 George Hutchinson (left)
James Smith, Chairman of Shell UK (right).
George Hutchinson from Rossendale, a Manufacturing Engineering student at The University of Cambridge, was placed at Weston EU Ltd, a manufacturing solutions company based in Colne. George was assigned to examine the frequency checking of turbine blades manufactured for Rolls Royce aircraft engines. He produced work instructions for the process and other related procedures to meet with quality standards. He also undertook an investigation into the possibility of reworking blades that failed frequency tests. His findings will provide a significant reduction in costs and have resulted in the company saving £13K per annum.
George's project was supported by Pendle Enterprise Trust.
"George represented a true pioneering spirit and his success is testament to his hard work and self motivation in an area in which Weston EU had no prior experience. It is important to emphasise that the difference he has made in his eight weeks with us was not just about the cost savings that he generated. As important was his approach and the dedication with which he went about a task that required the ultimate in dedication and drive." (Karl Patterson, HR Manager of Weston EU Ltd)
Date published
3 November 2005
Related People
Share This