Manufacturing on the agenda as trade mission visits Cambridge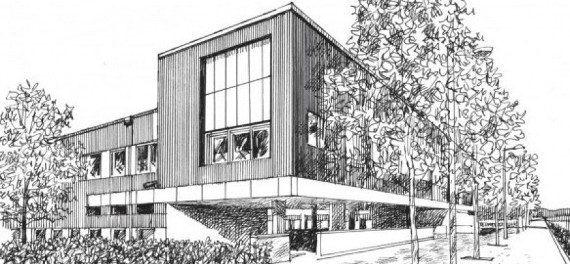 "We want to invite businesses from the UK seeking to expand to work with us." - Governor Deval Patrick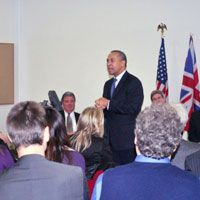 Governor Patrick addresses IfM audience
(Pic: Kim Haberlin/Governor's Office)
A high-profile US trade mission visited the IfM as part of an international 10-day trade tour of Israel and the UK.
The Massachusetts Innovation Economy Partnership Mission 2011, led by the State's Governor Deval Patrick, was designed to help form new research and business collaborations.
The visit was aimed at strengthening links between the UK and Massachusetts in Manufacturing, social policy and life sciences. It was jointly hosted by the IfM and the Centre for Science and Policy.
The US delegation, which included leading industrial, academic and government representatives, took part in a series of roundtable discussions with representatives from Cambridge life science, cleantech and technology companies.
Governor Patrick said the visit was an opportunity to foster mutually beneficial collaboration and investment, saying: "We want to invite businesses from the UK seeking to expand to work with us." He added that the event was part of, "… laying the groundwork for businesses from across the world to join us."
The Governor spoke of the historic links between his state and the UK and was keen to develop new collaborations aimed at strengthening these ties and creating new jobs to help generate economic growth.
The day's activities also included a panel discussion which focused on how to encourage and build hi-technology clusters similar to Cambridge's 'Silicon Fen'.
The panel included Graeme Reid, for the the Department for Business, Innovation and Skills, Cambridge MP Julian Huppert, and Dr Tim Minshall and Dr Eoin O'Sullivan of the IfM. More than 100 people attended the event and heard how policy and regulatory frameworks can help assist hi-tech economic growth.
The audience made up of local businesses, representatives of the University and business support agencies, then had an opportunity for networking with members of the US party.
The final part of the day featured a Town Hall meeting led by Governor Patrick, which focused on facilitating the development of the life science, cleantech and ICT sectors in the state.
It was a view echoed by Finbarr Livesey, Head of the IfM's Centre for Industry and Government: "This visit is an opportunity to strengthen the ties between two regions with significant depth in science, technology and innovation.
"We hope the sharing that happens over the visit leads to future partnerships between our universities, companies and public support agencies."
As part of his visit, Governor Patrick met with the Vice-Chancellor Professor Sir Leszek Borysiewicz, and was named to an Associate Fellowship position at the Centre for Science and Policy by Dr David Cleevely, Founding Director of the Centre.
A graduate of Harvard, Governor Patrick was first elected in 2006 and was re-elected to a second term in 2010.
Date published
17 March 2011
Related People
Share This