Manufacturing fun at the Cambridge Festival
On Saturday 18th March, we hosted another successful Cambridge Festival at the IfM. This year's event was the most well-attended since Covid-19 and attracted at least 500 visitors of all ages to come learn about and play with engineering.
Head of the IfM, Prof Tim Minshall, kicked off the afternoon with an engaging talk about how all the stuff around us is made, harking back to those early days of the pandemic when the vulnerability of international supply chains suddenly became obvious. Toilet roll, remember?
He went on to give the audience a peek into the amazing journeys that our things go on before they reach the shop shelves or our front doors, as well as possible ways to make those journeys shorter and more sustainable.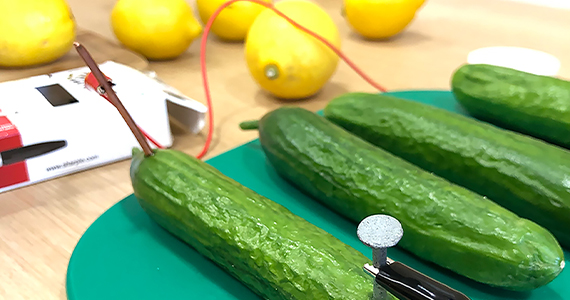 Several IfM research groups were represented and offered a host of activities for curious minds. The NanoManufacturing group made fragrant batteries with lemons and gherkins, and next door, Fluids in Advanced Manufacturing made lava lamps and dancing disco balls from store cupboard ingredients.
With demonstrations and activities throughout the building, there was a wonderful buzz at the IfM all afternoon. Many of the younger visitors took the opportunity to share their thoughts on their way out by drawing and writing about their day. Fortunately, they seemed to enjoy it as much as we did!
About the Cambridge Festival
The Cambridge Festival is an annual event that brings research from across the University of Cambridge to the public, through in-person, on-demand, and online events. This year's festival runs from 17th March to 2nd April.
Date published
22 March 2023
Related People
Share This