Low-cost automation 'on a shoestring' demos in action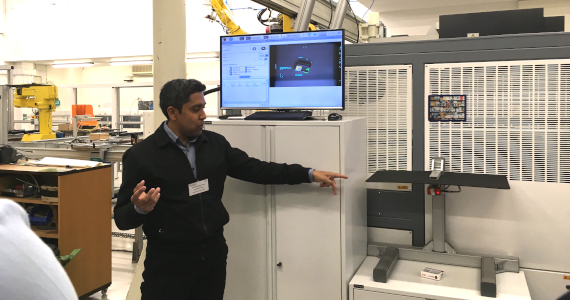 The Digital Manufacturing on a Shoestring project continued to build momentum at a partners' meeting on 13th June at the Institute for Manufacturing, bringing together collaborators to discuss the progress and next steps for the programme for supporting small manufacturers in their adoption of digital technologies.
The project is led by researchers at the University of Cambridge and the University of Nottingham who are collaborating with SME manufacturers to explore and develop low-cost digital manufacturing solutions to meet small-scale manufacturing needs. These solutions will make use of off-the-shelf, commercially available technologies.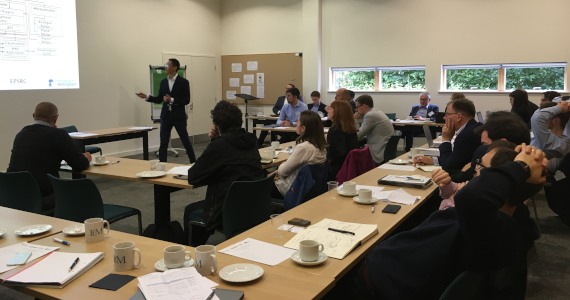 A series of 'requirements gathering' workshops are being held across the country, providing an opportunity for SME manufacturers to share their business needs and priorities for digitialisation. This process is providing the basis for the research team to identify which solutions are the top priorities across the industry, and to decide which solutions to build first.
Demos in action
Researchers provided demonstrators for partners, showing the first low-cost solutions that have been developed from the Shoestring project. These included:
Part detection and tracking: Detecting and keeping track of QR codes associated with delivered boxes (parts) from suppliers. Newly delivered boxes (containing parts) are placed flat on a tote, which the operator then manually 'scans' under a webcam that is connected to a Raspberry Pi and screen.
Augmented reality status viewer: A solution enabling a factory supervisor to view the status of the shop-floor inventory system in augmented reality on a smart phone/tablet.
Voice assisted assembly: A solution enabling workers to request fasteners (nuts and screws) from a turntable with Alexa integrated in order to complete an assembly operation.
Low-cost monitoring for digital manufacturing: A low-cost machine monitoring system can be attached to various machines, such as a 3D printer, using various sensors to obtain the status (e.g. temperature, activity) of the machine. Data from the sensors is analysed and visualised on the cloud, and can be viewed real time on any device.
Further solutions are in development, with SME manufacturer requirements continuing to be gathered in workshops and prioritised for development.
---
Open Conference
An open conference on 24th September at the IfM will provide an opportunity for manufacturing SMEs, low-cost solutions providers, manufacturing trade associations and networks to find out more about the Digital Manufacturing on a Shoestring project and to see the demos in action. For information on the event and how to book visit the event page.
Shoestring updates
If you want to receive the latest Shoestring project updates straight to your inbox, you can sign up to the newsletter on the project website.
Date published
19 June 2019
Related People
Share This