IfM's relationship with India strengthened with invitation to Society of Operations Management conference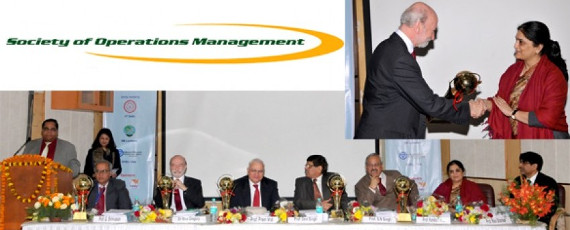 The Society of Operations Management (SOM), based in India, held their Annual International Conference on 21-23 December 2012 at the Indian Institute of Technology (IIT) Delhi.
The event is held every year to disseminate knowledge and share new ideas and innovation in managing manufacturing and service operations for businesses, governments, NGOs and other non-profit organisations.
This year's conference had a special track on food supply chains which was organised as part of a project funded by UKIERI (UK India Education and Research Initiative). The project is a collaboration between the Institute for Manufacturing (IfM) at the University of Cambridge and the Indian Institute of Management (IIM) Lucknow, looking at supply chains in the UK and Indian food industries. SOM invited Professor Sir Mike Gregory, Head of the IfM to be a keynote speaker. Mike delivered a speech on "Capturing Values from Manufacturing: Perspectives, Practices and Policies".
IfM researcher Dr Mukesh Kumar was also involved, presenting the paper "Mapping of the UK Food Supply Chains: Capturing Trends and Structural changes", co-authored by Mukesh Kumar, Jag Srai, Luke Pattinson and Mike Gregory.
During the event, SOM awarded the IfM's Head with the Lifetime Achievement Award for Operations Management Research. The award was presented by Professor Kanika T. Bhal, Head of the Department of Management Studies, IIT Delhi.
The SOM 2012 conference was chaired by Professor Ravi Shankar from IIT Delhi and jointly organised by IIT Delhi, IIM Lucknow and Grand Valley State University.
For more information on SOM visit this link.
Date published
17 January 2013
Related People
Share This