IfM students win Oxbridge "Varsity Pitch" competition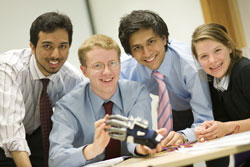 The TouchSight team with the Vision Mitt
MET students from the IfM have beaten off Oxford rivals to win the 'Varsity Pitch' competition.
The TouchSight team were one of three from Cambridge to take part in what has been labelled as "The Oxbridge Business Boatrace." The overall winner's prize consisted of £5,000 and a place in the next round in Monaco for the international 'Next Generation Entrepreneurship Forum' where they have the chance to access further funding.
Pete Davies of TouchSight commented: "We're absolutely delighted to win the Varsity Pitch 2007. It's brilliant that competitions like this are organised by student societies to enable entrepreneurship and let all these amazing ideas that would not otherwise see the light of day have exposure and involvement with business and investors in the real world. TouchSight will now take the next steps to bring the product to market - we will build more prototypes, protect our intellectual property and work closer with distribution channels to make this happen. TouchSight will bring real change to the lives of the blind and visually impaired across the world."
The Varsity Pitch is a new Oxbridge business idea competition, with three winners from the CUE £1k competition competing against three winners from the Oxford Idea Idol competition. The competition took place on Monday 19th February at the Said Business School, Oxford University.
Judges for the competition included; Peter Jones, Serial Entrepreneur & Dragon Den panellist; Martha Lane Fox, Co-founder, Lastminute.com; Ian Lobley, Senior Partner, 3i Venture Capital; Michael Birch, Co-founder and CEO, Bebo.com and Jim Lawn, Head of Innovation Strategy, Microsoft UK.
Date published
5 February 2007
Related People
Share This