IfM students win Cambridge University Entrepreneurs £1k Business Idea Competition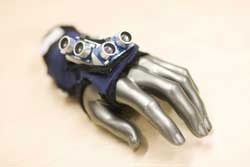 TouchSight Vision Mitt
MET students from the IfM have won the Cambridge University Entrepreneurs £1k Business Idea Competition with their idea the 'TouchSight Vision Mitt'.
The TouchSight Vision Mitt is an innovative mobility aid which enables the user to 'sense' their surroundings using ultrasonic sensors and vibration feedback actuators, whilst keeping the palm of the hand free for other tasks.
The competition this year had 86 entrants. The team, who consisted of MET students Karan Keswani, Samaan Rahman, Pete Davies and Jessie Baker, were one of ten winners who go through to the second round in which they have to present a full business plan for their idea.
"Touchsight have done very well to get to the final ten of the £1k Business Ideas Competition," said Rahul Vohra, President of Cambridge University Entrepreneurs. "We received 33% more entries than in any previous year and as a result the competition was extremely tough. We hope that Touchsight and other MET students will follow in the footsteps of James Hay. In 2001, James won the CUE Business Creation Competition with Splashpower whilst he was an MET student. Splashpower has since gone on to become the first venture backed company to come through CUE and has raised more than $15 million of further funding."
Cambridge University Entrepreneurs organise the most successful student run business planning and creation competitions in Europe . Since 1999, CUE has had over 450 entries and has awarded over £280,000 in grants to 31 business ideas. These companies have raised more than £15m further funding and are currently valued at more than £30m.
For more information on the £1k Business Plan Competition or Cambridge University Entrepreneurs please see the link below:
Cambridge University Entrepreneurs
For further information on the Touchsight Vision Mitt please email ifm-enquiries@eng.cam.ac.uk
Date published
2 February 2007
Related People
Share This