IfM students win £5,000 in Cambridge University Entrepreneurs competition - Where Angels Dare 2007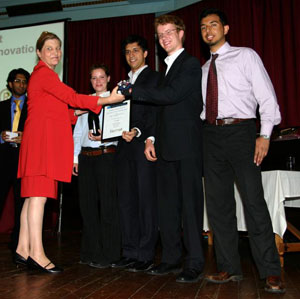 Barbara Cookson, Filemot Technology Law,
presenting the TouchSight team with their prize
Manufacturing Engineering Tripos students recently took part in the final round of the Cambridge University Entrepreneurs (CUE) Business Creation Competition 'Where Angels Dare 2007' with their business idea the 'TouchSight Vision Mitt'.
The TouchSight team were one of four who pitched their business idea to a panel of six angel investors in the Dragons' Den-style competition for prizes totalling £30,000. TouchSight were one of three winners each receiving £5,000 with all three teams then getting the chance to secure further investment from the Business Angels.
CUE President Rahul Vohra commented, "CUE has enjoyed its most successful year yet: we have raised a record amount of prize money, attracted an unprecedented number of entries, and have started the next generation of entrepreneurs on the path to growing a business."
The panel of angel investors comprised six successful Cambridge entrepreneurs: Robert Sansom, Andy Richards, Sherry Coutu, Ewan Kirk, Boyd Mulvey and Max Bautin. All of whom are passionate about advising and investing in early-stage companies.
Date published
2 July 2007
Related People
Share This