IfM students Tse Uweja and Charlie Barty-King among 2021 Vice-Chancellor's Social Impact Award winners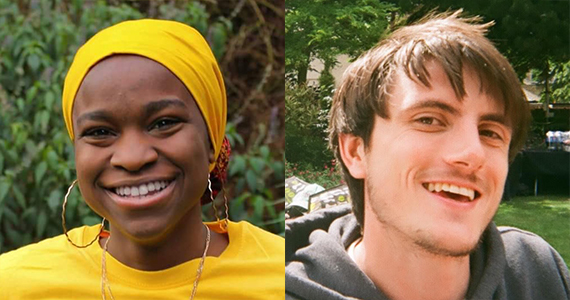 Their achievements and commitment to positive social change impressed a panel of judges consisting of four stakeholders representing the community, the University of Cambridge and organisations dedicated to supporting student social action.
Tse Uweja is a third-year student and a powerhouse of innovation and creativity, having worked tirelessly for social and climate justice during her time at Cambridge. In addition to holding liberation roles on multiple committees, she has founded and spearheaded countless other initiatives. An example of this is Cascade – 'a student start-up harnessing the power of individual action to tackle the climate crisis and create a more sustainable world'.
Tse said: 'Growing up surrounded by a diversity of cultures has allowed me to appreciate the integral role of design and engineering in solutions for global sustainable development, as well as the importance of diverse thinking and inclusive leadership in problem solving; university has been a great way to dive into and explore this more.'
Charlie Barty-King is a PhD student with extensive and varied experience across STEM, hospitality and social sectors. Valuing kindness, honesty and being a net positive to those around him, Charlie has contributed energetically to his students' association and more recently in the founding of the open access Green Society of Wolfson College and the launch of the College's Sustainability and Conservation Research Hub.
Charlie said: 'I'm incredibly flattered to be nominated for this award, not to mention receiving it! Thank you. However, through all my efforts there are and have been many amazing people who have supported me along the way. To them I am deeply grateful for making me excited and hopeful for the future; something, it feels like, many people need right now.'
Read Charlie's comments in full
About the Vice-Chancellor's Social Impact Awards
The initiative, now in its third year, was set up to recognise outstanding students at the University of Cambridge. It is organised by the Cambridge Hub – a student-led group offering practical volunteering, skilled placements, project incubation and events – with the support of the Vice-Chancellor's Office.
Date published
1 June 2021
Related People
Share This