IfM students build UK's largest nitrous hybrid rocket engine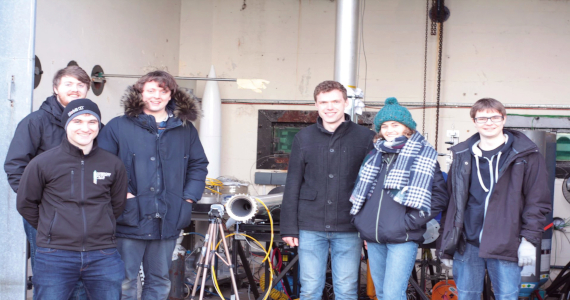 The IfM's undergraduate teaching emphasises practical application, and encourages students to develop their designing, building and testing skills. Two of our undergraduates have been part of a small team of students from the Engineering department who have produced the largest impulse of any nitrous hybrid
rocket ever fired in the UK.
The 'Pulsar' engine was designed and constructed from scratch by Cambridge University Spaceflight (CUSF) students over an 18 month period. It was tested and successfully completed its first static firing in January 2019 at Airborne Engineering Ltd's test facility in Westcott, Aylesbury.
CUSF's Matt Escott, a student at IfM, explained:
"Pulsar will be the engine that powers the Martlet 4 rocket, which CUSF is planning to launch in 2020. The engine is more powerful than anything made by amateurs before. Our aim with Martlet 4 is to break the UK amateur-built altitude record. The current record is 10.3km and Martlet 4 is designed to exceed 15km."
Pulsar burns nitrous oxide combined with high density polyethylene fuel to produce thrust for a total of 36 seconds. Over the course of the static firing test, the engine produced a measured impulse of 53,855 Newton seconds.
Airborne Engineering has been an enthusiastic supporter of CUSF. It employs six people at the facility, four of whom are ex-Spaceflight themselves. "We needed to use Airborne's test facility including the concrete bunker," said Matt. "Pulsar's hybrid fuelling means the solid fuel is stable until we add the liquid nitrous oxide just before ignition."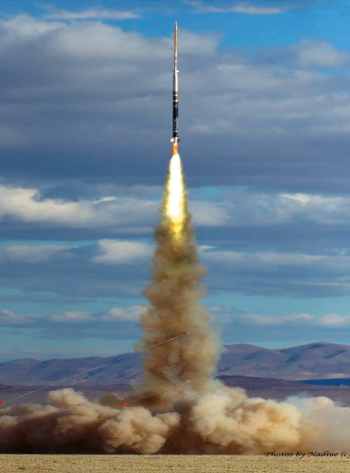 The Pulsar project follows the launch of CUSF's Martlet 3 rocket in Nevada in 2017. Martlet 3 reached a max velocity of Mach 1.2, but the commercial off-the-shelf rocket motor exploded in flight.
Matt explained: "The first stage of Martlet 3 was destroyed in the explosion, but the dart was able to ride the shockwave of the blast and fly in a stable trajectory to 3.5km. Our avionics went beyond the call of duty, surviving the explosion, and the dart maintained live telemetry throughout the flight and correctly deployed parachutes for a safe recovery. The experience with Martlet 3 definitely motivated us to try and build something better!"
To fund the project, CUSF pitched through a Dragon's Den-style pitching presentation to the Engineering Department's Student-led Projects and Industry Partnership (SPIP) programme. This has industrial support from Boeing, BP, Jaguar Land Rover, National Instruments and Marshall Group through sponsoring, mentoring and technical advice.
"The project has been exciting to work on," said Matt. "Beyond wanting to get Martlet 4 higher than any other amateur rocket, we're also interested in the research potential and the practical aspects of building and testing it, including applying things we've learnt in the Engineering course."
Date published
15 April 2019
Related People
Share This