Science Festival at the IfM - Winners announced for i-Teams competition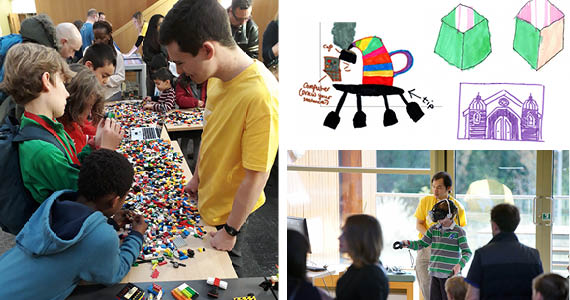 Budding young engineers and scientists were treated to a plethora of exhibits at the West Cambridge site on the last Saturday in March. Visitors to the Institute for Manufacturing (IfM) had their photos etched into metal by a laser, watched robots playing golf, explored the world through a microscope, and experienced the IfM in Virtual Reality, allowing them to hurl furniture around and 3D print new virtual objects.
The i-Teams What Would You Use THAT For? competition, which runs each year at the Institute for Manufacturing, this year encouraged attendees to imagine ways of using any of the technologies they had experienced that afternoon.
Amy Weatherup, competition organiser, said: "We were very impressed with the care and attention to detail which went into some of the entries, and would like to thank all of the entrants – every idea was wonderful!"
In addition, demonstrations from local companies including Audio Analytic, BlueTap and SureFlap showed some ways in which science and technology can be transformed into real-world products:
Sound experts from Audio Analytic shared the science of automatic sound recognition, and demonstrated how patterns of sound waves link to sounds. A timelapse of their day can be seen here.
BlueTap was founded by students from the Cambridge University Engineering Department, and uses 3D-printed components to provide low-cost water purification systems for households in the developing world.
SureFlap catflaps have been available for purchase for several years, and give an excellent demonstration of how RFID technologies can be used in the home.
i-Teams What Would You Use THAT For? competition - the winners and runners-up
In the 7 and under category, the winner is:
Aniva Haque, from Monkfield Park Primary School, for her idea of a smart bike lock which works with an RFID bracelet
And the runner-up is:
Violet Fuller, age 5, for her idea of a catmobile to help old or disabled cats
In the 8-13 category, the winners are:
Amy Moffatt & Carmen Tatnell, both age 9, from Meridian Primary School, for their idea of a self-pouring kettle to make coffee
Hannah White, from Fawcett Primary School, for her idea of a circular robotic hoover that can climb vertically to clean furniture
Alice Blu Giancola, from St Bede's Inter-church School, for her idea of using the VR system for architects to design and understand their buildings
And the runners-up are:
Jasper Blackwell, from Kirkstone House School, for the idea of linking the catflap to a phone app to let you see where your cat is
Sophie Brown, from Gundisburgh Primary School, for her idea of making paper and string headphones for the Audio Analytic paper guitar cups
Roan McAuley, from St. Bede's Inter-church School, for his idea of using the laser cutter to make decorative bookshelves and bookends
The winners will receive science-based prizes and a special certificate of their award-winning idea, and all the runners-up will also receive certificates. We would like to thank everyone who took the time to enter the competition and provide their fabulous ideas.
Date published
4 April 2018
Related People
Share This