'How Stuff Gets Made' - IfM and Faculty of Education deliver outreach days in primary schools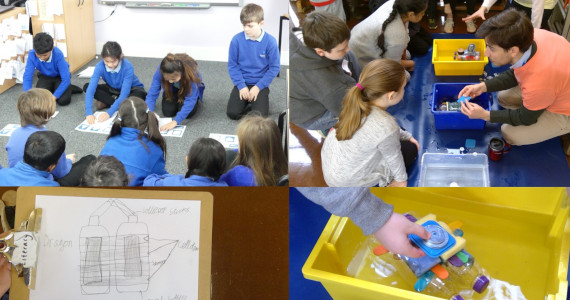 Children in local primary schools around Cambridge have been learning more about 'How Stuff Gets Made' thanks to a programme being delivered by engineering students and researchers and the Faculty of Education.
Activity days were hosted with Year 5 pupils at Arbury, Cottenham, Queen Emma and Fulbourn Primary Schools, and St. Mary's Junior School. The IfM team, led by PhD student Susannah Evans, designed engaging activities to introduce manufacturing concepts to children, and worked with teachers to tie these in with the curriculum of each school. The University's Faculty of Education provided valuable advice and guidance to ensure that the activities aligned with the needs of schools.
Pupils enthusiastically tackled a variety of challenges, including designing and making boats and paper aeroplanes, learning about buoyancy and aerodynamics. They also made devices to carry ping pong balls down a zip wire in the quickest possible time. Children worked in teams, with points awarded for cooperative working as well as how well they approached the tasks. Emphasis was put on the iterative nature of design and prototyping as well as the advantages of organising production in an assembly line.
Positive Attitudes Towards Manufacturing
Afterwards, pupils were asked for their views about the day, and gave very positive responses: 95 percent said they enjoyed it, 90 percent said they had learned something new about engineering, and 74 percent wanted to find out more about engineering.
Tim Minshall (Dr John C Taylor Professor of Innovation, and Head of the Institute for Manufacturing) commented: "We are really excited by this programme. There is a clear need to encourage more young people to consider careers in manufacturing. By providing a fresh and engaging view of manufacturing to pupils and their teachers, and supporting our students and researchers in developing their outreach skills, we hope this programme will help enhance positive attitudes towards manufacturing."
Susannah Evans, the Project Coordinator added: "We were so pleased by the enthusiasm of schools to engage with these activities. It was really rewarding to see at the end of each event the children were able to recall information about the manufacturing concepts taught throughout the day. The activities were not only enjoyable but also informative."
The outreach programme was awarded funding by the Royal Academy of Engineering's Ingenious grant scheme, with additional funding provided by the Sharman Fund and Churchill College.
For further information please contact:
Related People
Share This