IfM makes an impact at Digital Manufacturing Week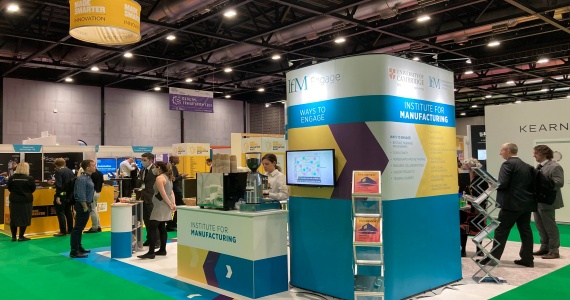 Last week saw thousands of manufacturers, industry leaders and technology providers descend upon Exhibition Centre in Liverpool for Digital Manufacturing Week 2021.
Produced by The Manufacturer magazine, Digital Manufacturing Week (DMW) is a national festival of advanced manufacturing. The IfM works with The Manufacturer all year-round providing content on the latest research for the magazine, and DMW offers the opportunity for the Institute to hear about the latest industry trends in digital manufacturing, reconnect with partners and engage with new organisations.
As official knowledge partner for the event for a fourth year in a row, the IfM delivered a packed schedule of masterclasses, keynotes and live demonstrations – all designed to help delegates unpick the key business challenges of today.
Smart Factory Expo
The Smart Factory Expo brings together different types of technologies enabling the digital manufacturing revolution. Exhibitors showcase the latest technology, process and thinking behind Industry 4.0.
With a dual aspect exhibition space, a dedicated IfM networking space and the IfM Theatre, the IfM team, accompanied by experienced Industrial Associates and researchers, had a strong visible presence and were on hand to provide expertise on the latest research and insights into digital challenges.
Six IfM strategic masterclasses hosted by IfM Engage covering innovation strategy, automation assessment, technology acquisition, roadmapping, AI and Industry 4.0 were held in the IfM Theatre across both days by IfM experts.
Masterclasses included:
Adoption of technology for the 4th revolution for supply chains (Dr Imogen Cleaver and Dr Florian Urmetzer)
Making the right automation investment decisions (Liz Salter)
Capture value more effectively by mapping your ecosystem (Dr Florian Urmetzer)
Develop your strategy using fast-start roadmapping (Dr Diana Khripko)
Investing in technology? Find the perfect match (Dr Diana Khripko)
Your roadmap to technology and innovation mastery (Andrew Gill and Rob Munro)
According to IfM Engage CEO David Lott, the team relished the opportunity of meeting manufacturers in person:
"It was great to be back at Digital Manufacturing Week. We've really enjoyed having the opportunity to talk to manufacturers and explain how the IfM is working to deliver sustainable economic growth through productivity and innovation.
"We've had some great conversations about the professional education services we offer, possible research collaborations and student opportunities.
"We hope these conversations and all of our activities at DMW will challenge established thinking and norms and provide delegates with a fresh perspective as well as practical guidance on how to move forward."
Digital Manufacturing on a Shoestring goes live
At the Smart Factory Expo Digital Manufacturing on a Shoestring set up a mock-factory production line with live demos showing how low-cost digital solutions could help improve efficiencies on a simulated gearbox production line.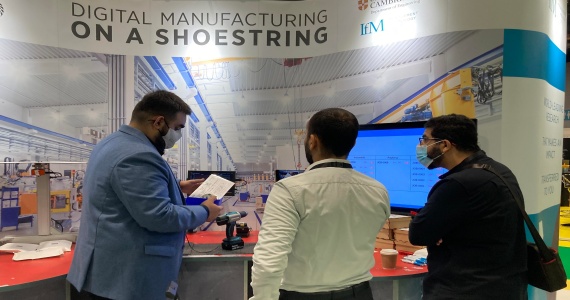 Three shoestring solutions were demonstrated: Job tracking (giving real-time visibility on the status of all the jobs in production); Automated parts completeness checking (ensuring all the right parts are collated before being sent to be assembled); and Equipment monitoring solution (monitoring the use of a screwdriver used to assemble the products). Full details on how this live factory demonstrator was put together can be found here.
The Shoestring team spoke with over 100 manufacturers who were keen to find out how to add low-cost technologies to their existing production lines. The team also met with technology providers keen to make their low-cost kit compatible with Shoestring, as well as regional business innovation teams who were excited to see how Shoestring could help facilitate, quickly and easily, more digitalisation in small- and medium-sized companies in their regions.
Shoestring's Dr Greg Hawkridge says the live demos have helped companies, particularly small- and medium-sized enterprises, realise that small digital changes can make a big difference:
"It's been really great to see how many small companies have been inspired to try something different. Thanks to Digital Manufacturing on a Shoestring, we have been able to demonstrate that digitalisation doesn't need to be that complicated and that there are some simple things that SMEs can do to start the process."
Greg also delivered a keynote at the SME Growth Summit about shoestring and how SME manufacturers can tap into the benefits of digitalisation without the costs and risks inherent in large-scale solutions. He was joined by Craig Mayoh, Operations Director of Shoestring partner Kemdent, who described the impact of shoestring on Kemdent's processes:
"Kemdent piloted a shoestring temperature monitoring solution on a production line. It was deployed with fantastic support from the IfM. For any company thinking about trying out a digital solution – shoestring is a good place to start. It has made Kemdent more confident in our approach to digital manufacturing."
Manufacturing Leaders' Summit
At his keynote address during the Manufacturing Leaders' Summit on Day 2 of DMW, Professor Steve Evans, Director of Research in Industrial Sustainability at the IfM, discussed how industrial digitalisation can help support net zero manufacturing.
With a wealth of experience around industrial projects, Steve was well-placed to explain how companies are using industrial digitalisation to drive carbon reduction alongside labour and capital productivity.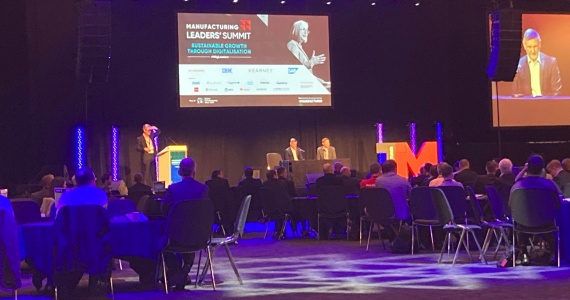 Steve offered some thoughts on where the convergence of digitalisation and sustainability – the two great changes sweeping global manufacturing – might take us:
"COVID-19 has been a huge bump in the road, but there are going to be more in the next two decades, so we're going to need to build systems that are resilient to disruption and that plays into sustainability.
"But this is something manufacturers are already good at – seeing a problem and doing something about it. And it isn't going to take a massive change to get on the journey. Efficiency is not going to get us to pure net zero by 2050. But what it is going to do is get us on the pathway while at the same time, making us money. We will spend less money on water, materials and energy, so the first part of the journey will increase profit.
"You don't need a plan laid out until 2050. Manufacturers should get out there and practice what they're good at because, as you become efficient at using energy, water and materials etc, you gain the knowledge needed to take the next big step."
Steve concluded that although there is no doubting the challenges that are facing manufacturing (sustainability, net-zero, COVID-19, digital transformation etc.), companies need to be flexible, agile and adaptable in order to meet these head-on, and thrive in the future.
TMMX Awards
The winners of The Manufacturer MX (TMMX) 2021 Awards were announced at a black-tie ceremony - the culminating event of Digital Manufacturing Week.
The TMMX awards are open to manufacturing businesses and individuals that work directly in a manufacturing business, of all sectors and sizes. Delivered by The Manufacturer in partnership with the Institution of Mechanical Engineers (IMechE), the awards exist to encourage, benchmark and celebrate manufacturing excellence. Award categories range from recognition in innovation and sustainability, through to apprenticeships, leadership and staff engagement.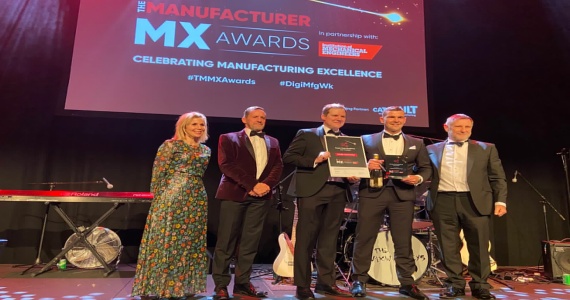 The IfM's David Lott and Kate Willsher were both on the TMXX judging panel, judging the Leadership and Strategy and Young Manufacturer of the Year categories respectively.
On the night, Professor Steve Evans presented the Supply Chain Excellence award to winners Lander Automotive – an award sponsored by the IfM.
Date published
16 November 2021
Related People
Share This