IfM graduate Ying Wan Loh wins IET Young Woman Engineer of the Year
Photo credit: The Institution of Engineering and Technology (IET)
Huge congratulations to Ying Wan Loh, a former IfM student, who has been awarded the prestigious Young Woman Engineer (YWE) of the Year for 2019 by the Institution of Engineering and Technology (IET).
Ying Wan Loh is a civil aerospace manufacturing engineer at Rolls-Royce plc. She joined the company's graduate scheme in 2015 after her time at the IfM, as a student on the MPhil in Industrial Systems, Manufacture and Management course. She thanked tutor Tom Ridgman in her acceptance speech. During her time at the IfM, she co-founded a technology startup which won the CSSA UK High-Tech Entrepreneurship Bronze Award.
As a manufacturing team leader at Rolls-Royce, she has led a team to reduce non-conforming parts in the factory and is responsible for £3 million worth of inventory. She is also responsible for the recruitment, health and safety, performance review and professional development of team members. In this role, she has successfully released cash value of £2 million from slow-moving parts and supported the plant to achieve 40% more parts delivered.
Outside work, Ying represents the Institution of Mechanical Engineers (IMechE) Young Members Board on the Professional Development Standards Committee which sets the global standards for professional chartership accreditation.
Ying is passionate about theatre, and has organised over 25 theatre productions. In her acceptance speech, she drew on her enthusiasm for creativity and arts alongside her love of engineering:
"When I was a kid, I was given both dolls and Lego. I'm not a big fan of dolls, so I used all the Lego bricks to build a big house and put all the dolls inside! I guess it shows that I love construction toys: the freedom and the creativity they inspire."
She made the most of the awards platform to highlight the need for raising the prominence of women in STEM:
"The challenge is the low number of high profile female scientists and engineers [who are well recognised as] role models. If the general public—ie not a geek like me!—cannot name 10 famous female scientists or engineers without googling then no wonder we're stuck at only 12 percent of female engineers in the industry. Who can kids look up to?
"So my challenge to the audience today is that when we talk about great scientists, I challenge you to talk about equal proportions of male and female scientists – Einstein, Darwin, Newton sitting equally alongside Ada Lovelace, Marie Curie and Katherine Johnson. Capture the imagination of young girls everywhere, plant that seed that they can too be engineers who have the power to change the world."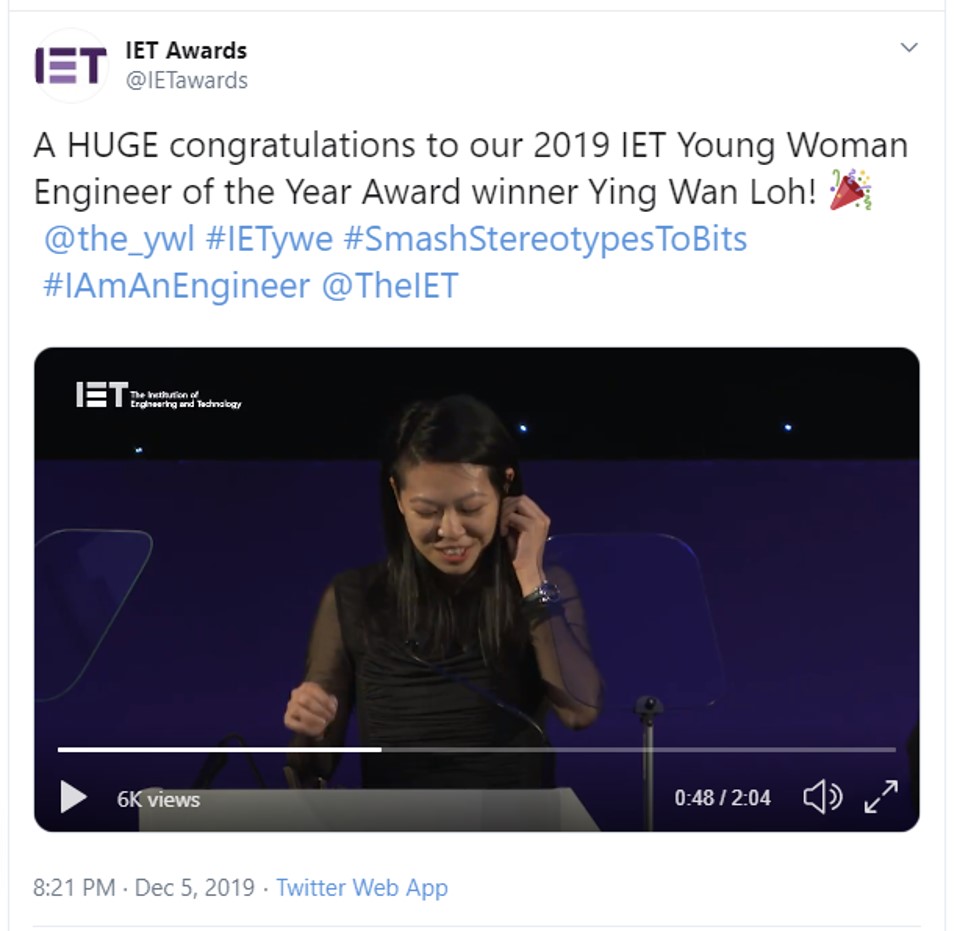 Ying was selected from among a strong field of YWE finalists: Congratulations to Charlotte Buffey of Rolls-Royce; Shrouk El-Attar of Renishaw; Dr Claire Lucas, Director of Studies – Systems and Information Engineering at the University of Warwick; Samantha Magowan Engineering Apprentice for Dale Power Solutions; and Amber O'Connor, Engineering Programme Manager/Equipment Health Monitoring & Performance for Siemens.
Date published
11 December 2019
Related People
Share This