MET Design Show 2019: Undergraduate product innovations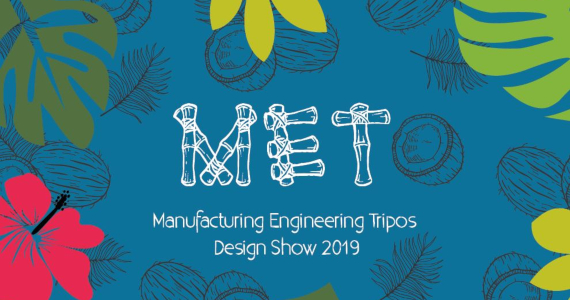 This year's Manufacturing Engineering Tripos Design Show on 5th June once again saw an impressive array of creative student inventions on display. The design project is a major examinable component of the IfM's 3rd year undergraduate course, for which students develop a new product with real business potential.
They are asked to identify a customer need, research the market, develop original design concepts and create a full business plan, as well as building a prototype. The projects have generated some exciting new ideas and innovative technology. In previous years, a number of prototypes have gone into commercial production and won national prizes.
Students presented their projects for assessment on 5th June. This year, the Design Show display was kept in place in the IfM Common Room for our Showcase open event on 6th June, where students had the opportunity to discuss their products with over 100 visitors from industry and the IfM's network.
The 2019 Design Show projects are:
CocoPress – a manufacturing solution to create a biodegradable fibreboard from waste coconut husks. CocoPress downsizes an existing industrial process to make production of fibreboards accessible to farmers at a local scale. The team says: "This creates a higher value product for coconut farmers to sell, ultimately improving their livelihoods."
Team: Taejoo Kim, Ryan Ng and Georgia Semple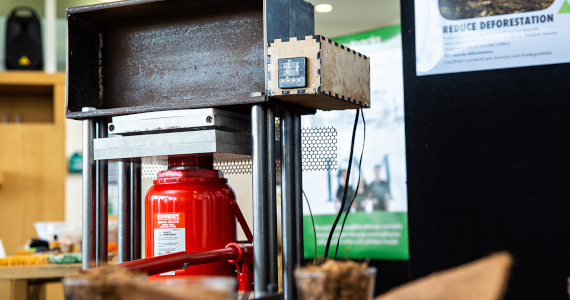 CocoPress project for making coconut-husk based fibreboard.
CoCoal - open-source technology designed for communities in rural Kenya. The low-cost method produces high quality cooking briquettes from coconut charcoal. The teams says: "This simultaneously reduces waste, deforestation and household energy expenditure."
Team: Robbie Blythe, Agnes Fung and Alex Watson
The River Point Project - a global community-based initiative aiming to educate school children on the environmental impacts of microplastics by bringing lab-scale technology into the classrooms, whilst providing valuable crowdsourced data to researchers and organisations across the world. The team has developed 'RP01', equipment which classifies microplastics from surface-water samples according to size.
Team: Georgia Everest, Shwan Rasoul and Helen Shao
Senserene - a pod proving sensory reduction, safety and comfort to children suffering from autism spectrum disorder. It is designed with flat-pack principles and ease of assembly in mind. Senserene's sensory pod aims to provide a safe and quiet space for distressed children with autism in both the
classroom and for domestic use.
Team: Jonathan Heywood, Daniel Hyman and Erica Lee
PuriFlow - an electrostatic precipitator (ESP) designed to remove particulates from the air. Mounted on lamp posts, and completely self-cleaning, this technology can be rolled out in cities, where pollution is worst. The team says: "We have created this ESP to provide an affordable and effective solution to the urban air pollution problem."
Team: Darius Danaei, Sian Evans and James Lee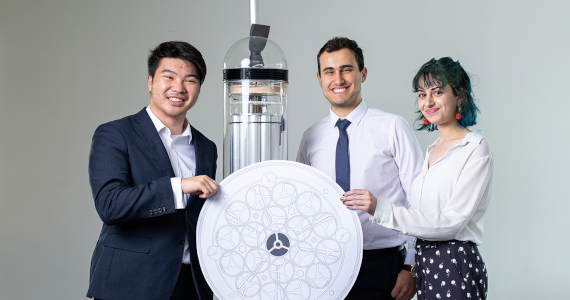 PuriFlow device to remove particulates from air.

Pulpacks - a unique packaging solution for small eco-conscious businesses. The automated process converts recycled paper into pulp packaging by using suction onto a 3D printed mould. The teams says: "Pulpacks will provide a new option for small companies by using 3D printing technology to make customised moulds for moulded pulp packaging production."
Team: Harriet Caisley, Owen Chen and Chrisian Repole
MeatFreeMe – The MeatFree Maker provides a simple and delicious alternative to store-bought products or making vegan products by hand. It integrates the kneading, blending and heating stages, which leads to protein alignment and mimics the texture of real meat. The user can change the recipe to fit their own particular tastes.
Team: Patryk Balicki, Lin Bowker Lonnecker and Becca Clarke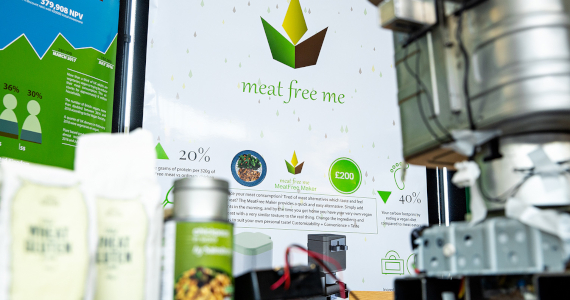 MeatFree Maker for homemade vegan protein.
PastePadi - aims to reduce tomato wastage in Nigeria. The machine uses a pedal-powered crushing mechanism, creating a simple way to separate the skin and seeds from the fleshy insides.
Team: Tami Austen-Peters, Cathleen Law and Owen Underwood
RAD TouchCut Pro - an educational tabletop CNC router, where the cutting paths are drawn directly onto an image of the workpiece via a touchscreen, for use in secondary schools D&T lessons. The team says: "The operation of our product has been designed to be as user-friendly and safe as possible so students are able to use the product without direct supervision from teachers."
Team: Dylan Bogod, Rory Dyer and Akhil Sonthi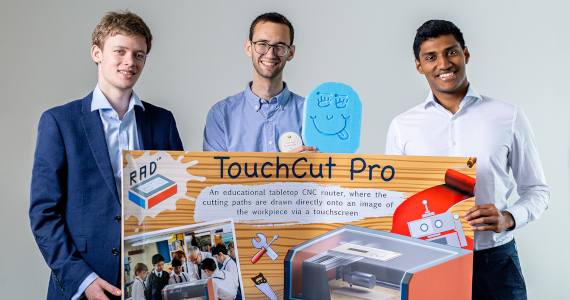 TouchCut Pro for using CNC routers safely in schools
PowerTrak - a comparatively cheap device for measuring the power you expend in cycling. These measurements will be transmitted via Bluetooth and can easily be viewed using our PowerTrak app. The team says: "We opted to use a laser and detector set up, as these components can be sourced cheaply; this gives PowerTrak a competitive advantage."
Team: Anirudh Govil, Kyung Mo Koo and Abdi Omar
Date published
7 June 2019
Related People
Share This