IfM awarded for COVID-19 response at Cambridge Independent Science and Technology Awards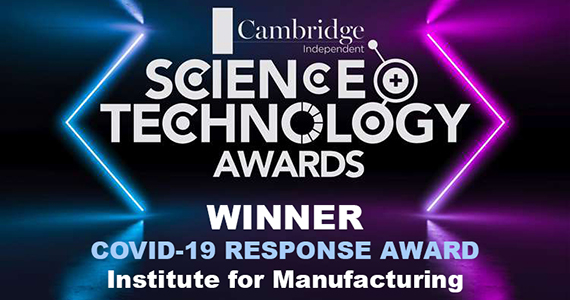 The IfM's response to the COVID-19 crisis has received further recognition as the institute has been named the winner of the special COVID-19 Response Award at the Cambridge Independent Science and Technology Awards.
The award acknowledged the IfM's work helping local hospitals to make the best use of their resources, streamlining logistics for sourcing and storing vital PPE, informing decision-making on emergency demand, and developing a ventilator sharing system to be used in emergencies.
A virtual awards ceremony was held on 15 April, attended by businesses, organisations and research institutes from across the Cambridge ecosystem.
Ronan Daly, who led the IfM team working on the ventilator sharing project, said: 'The whole team was surprised and delighted. Thank you to the Cambridge Independent for running this outstanding event showcasing the research, firms and activities that make the region stand out.
'We were very keen to find some way to use engineering and help hospitals during their most challenging time last year. The incredible work by everyone shortlisted showed that this was something shared across Cambridge and there is a strong community that comes together when needed.
'We are also aware that this was a small contribution compared to the incredible response by all our colleagues and friends working day in and day out on the frontline, who we especially thank for getting us through this last year.'
Paul Brackley, editor of the Cambridge Independent, said: 'It was a pleasure to reveal the winners of these awards, but also to celebrate the incredible work of all the finalists who were shortlisted tonight.
'The awards, which are now in their fourth year, are a showcase of what the Cambridge region is capable of - world-leading achievements across so many fields of science and technology.'
Read more
Date published
16 April 2021
Related People
Share This