How to hack food challenges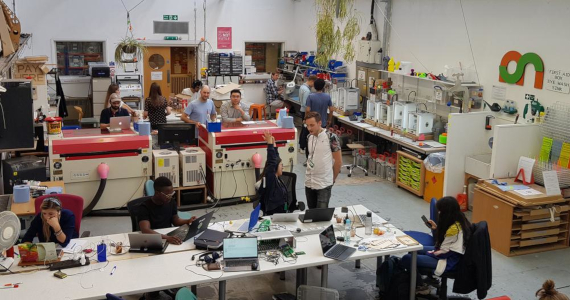 IfM researchers are leading a pioneering project to stimulate innovation and entrepreneurship in the food sector. MAKEit is a three-year project led by the IfM's Dr Shima Barakat, Dr Letizia Mortara and Dr Curie Park, with Professor Steve Evans as Principal Investigator, funded by EIT Food. It aims to address food industry challenges, such as healthy nutrition and sustainable food systems.
Taking a fun, team-based approach to generating creative ideas, the project is centred on a series of 'MAKEathons'. These workshops, hosted by project partners in different locations across Europe, emphasise rapid prototyping by collaborating with local makerspaces. To do this, they build on the established hackathon model with intense team efforts to tackle challenges over 1-3 days.
MAKEathons will tackle a set of challenges for different food supply chains, including sugar, cocoa, meat, fish, vegetables and cereals over a three-year period. Events will involve different groups of stakeholders, including researchers, industry experts, students, school children and families.
Sugar hacking
Over-eating of sugar is recognised as a contributor to the obesity crisis, and there are many calls for innovative thinking to promote more healthy behaviours in how sugar is consumed. Focusing on this sweet-toothed theme, the first MAKEathon was held in Cambridge in July 2019, and successfully stimulated intense teamwork and energy.
Hosted in Cambridge's Makespace, the weekend sugar hack created a highly supportive environment which nurtured new thinking. The programme included talks by the IfM team, Makespace members, and Dr Maarten van der Kamp, Director of Education at EIT Food, covering challenges in the food value chain, and the history and sociology of sugar. Presentations also equipped attendees with ideas about how existing practices could be disrupted, how prototyping can be done rapidly, and how commercialisation can be expedited.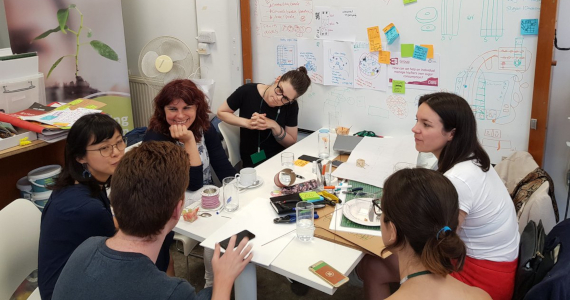 A Cambridge MAKEathon team brainstorms ideas for the sugar market.
Drawing on this theoretical and practical knowledge, attendees worked in teams to build their own products which would have the potential to disrupt current practices. These encompassed a nutritionally balanced shopping basket to support changes to behaviour at the point of sale; bottle caps to encourage the slow drinking movement; and games and toys to help educate young children and their parents about healthy eating.
Judges from Tesco, PepsiCo and the Walgreens Boots Alliance listened, evaluated and gave feedback on all the creations. They nominated as winners a team that had focused on teaching children about sugar intake from a young age and giving parents easy alternatives to sugar.
One of the PhD students who took part in the sugar MAKEathon commented: "having two and a half days to go from having nothing to physically having something was a really incredible feeling."
Dr. Ward Hill, Makespace Director said: "The food MAKEathon was one of the most productive events held to date at Makespace Cambridge. We look forward to supporting other EIT Food MAKEathons across Europe in the coming months."
EIT Food promoting food innovation
Other MAKEathons have since been hosted by MAKEit partners at VTT Finland, focusing on the meat sector with teams formed from high school-age pupils; at DIL Germany also focusing on meat with a student contingent; and at ETH Zurich focusing on cocoa with a group of entrepreneurs.
Meat MAKEathon in DIL, Germany
To encourage co-creation between different stakeholders in the food sector, the University of Cambridge is working on MAKEit with project partners AZTI, DIL (German Institute of Food Technologies), ETH Zürich, Matís, Queen's University Belfast, VTT Technical Research Centre of Finland, Universidad Autónoma de Madrid, IMDEA Food Institute and University of Warsaw.
The project is funded by EIT Food, a pan-European programme involving over 50 of Europe's leading food companies, and education and research institutions. EIT Food has ambitious goals to 'future proof our food' through overcoming low consumer trust, and creating food systems which can deliver healthier nutrition. It also aims to engage consumers, enabling more informed and affordable food choices. Critically, it has sustainability as a central value, seeking to transform traditional 'produce–use–dispose' behaviours into a circular bio-economy.
To reach towards these aspirational goals, EIT is promoting food entrepreneurship and innovation at all stages of business creation, and distributes grants to support creative research and entrepreneurial projects. MAKEit is one of a number of projects helping to turn EIT's ambitions into reality. In the long-term, MAKEit hopes to establish lasting networks among the makerspaces and education partners across Europe for cultivating, exploring and testing new ideas and generating tangible prototypes for the food sector.
Capturing what's learned through running MAKEathons can enable the sharing of valuable information between partners. Lessons learned from before, during and after each event are recorded and synthesised with other events, and will be collated and analysed towards the end of the project in 2021.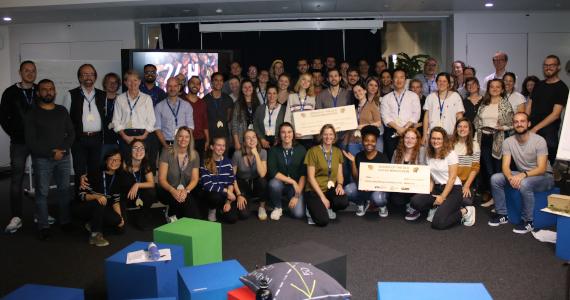 The cocoa MAKEathon in Zurich, Switzerland.
Date published
9 January 2020
For further information please contact:
Related People
Share This