Highlights of Hannover - DIAL Newsletter Spring 2019
By Alan Thorne, Senior Technical Officer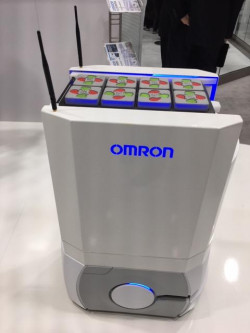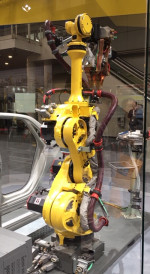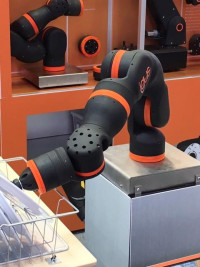 I was pleased to attend the Hannover Messe at the beginning of the month. The show is split into 6 strands across 23 halls, covering topics such as Integrated Automation, Digital factory systems, Vacuum / Compressed air systems and much more. The show provides a good opportunity see some of the latest developments from 6,500 exhibitors in one location.
My one-day visit allowed me to get a fleeting glimpse of some of the latest developments and I have described some of the highlights below:
Omron was showing its new Sysmac AI controller with on-board predictive maintenance capabilities. The controller can be configured within a machine to capture sensory data and locally predicting machine failures, without being explicitly programmed to do so or requiring the use of cloud based solutions. Omron was also demonstrating its Automated Intelligent Vehicle (AIV), providing a transport service between a couple of machines. The AIV is a solution that can be configured to provide different handling solutions such as lifts, conveyors or shelves. The AIV's can be integrated into Sysmac solutions, providing mapping and intelligent routing capabilities.
Fanuc was demonstrating an R-1000iA 120F-7B. This anthropomorphic robot that has been designed to meet the needs of compact welding cells. It has a number of adaptions to make it better fit this role. Firstly the wrist motors are positioned further back on the arm behind joint three, allowing the end effector to better access to confined spaces. Secondly, the first major link in the robot has had an additional joint added, allowing the length of the link to be reduced and thus squeezing the working volume of the robot.
Igus was launching its new low cost robot called Rebel. This is a small anthropomorphic robot, with 6 degrees of freedom. Igus are leveraging their plastic technologies to provide this low cost solution, making use of Xiros motion plastics for bearings and strain wave plastic gears. Igus were also displaying a wide range of filament materials that can be used in the 3D printing of gears and bearing at a quality similar to that seen in parts that have been injection moulded.
The OPC Foundation has a number of members that are developing OPC UA solutions for low cost controllers such as Raspberry Pi's. Posys OPC are providing an OPC UA Java SDK, Unified Automation are providing an OPC SDK ANSi C, C++, C#, Java.
If you get the opportunity to visit the Hannover show, it is well worth it, but do not forget to take good walking shoes.
Date published
29 April 2019
For further information please contact:
Related People
Share This