From Tripos to TripAdvisor

Since leaving the Department of Engineering, alumna Lily Cheng has had a whirlwind career that now boasts President, APAC, at TripAdvisor.
TripAdvisor is one of the world's largest travel websites. Lily leads the company's growth in the Asia-Pacific region with a focus on China, India and Japan. Since joining the corporation in 2010 as senior director of strategy and business development in the APAC region, Lily has been instrumental in establishing TripAdvisor's offices in Singapore and Beijing.

Raised in Hong Kong, Lily became interested in computers and technology at a young age. She found herself in the back streets of the city, collecting various electronic components and assembling them into small gadgets. "It was like an entire street with all the parts you would find in an RS or Farnell catalog laid out in little plastic bins," she said. "It was my version of a candy store."

Becoming an engineering student was a natural progression for Lily. "I really love the feeling of being able to make something. I wanted to be an inventor." She considered industrial design but in the end decided on a more technical track. "It was considered a 'safe bet' in Chinese society, which was an influencing factor."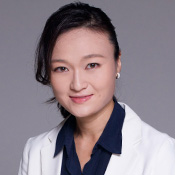 During her time at Cambridge, Lily was exposed to a wide variety of disciplines, including mechanics, electronics, thermodynamics and structures. In the end, she pursued the Manufacturing Engineering Tripos (MET). "I was particularly interested in the intersection of engineering and business," Lily said. "The program exposed us not only to engineering skills but skills that are very important in the business world, like accounting and public speaking."
Studying under Department of Engineering lecturers such as Dr Hugh Hunt, Professor Sir Mike Gregory and Professor Cam Middleton, Lily honed skills that are highly sought in the internet economy. "An engineering mindset, combined with analytical and data manipulation ability, combined with outward-facing skills to pitch ideas in a business context and secure resources are all very key," Lily said. "Graduates from the MET program develop a unique combination of these skills and the ability to traverse the intersection of these disciplines in a way that's very valuable to business."

"Regardless of whether you are in a start-up or in a global internet company like TripAdvisor, being able to bridge comfortably between technology and business is important when you are trying to secure financial resources for your ideas," Lily said. "Graduates from Cambridge Engineering are often able to pull things out of the bag that breaks conventional stereotypes of what engineers can do.

In my current role at TripAdvisor, I am very fortunate to have the opportunity to be involved in many different disciplines of the organisation. One day, I might have a conversation with our engineering leaders about how we can optimise the architecture of our code base. The next day, I might meet with political leaders in different countries to explore how TripAdvisor can be a platform to grow their economies through the promotion of tourism. The next day, I might sit in a usability study watching users from different countries trying to search for information on our app to understand the areas of friction."

TripAdvisor's founder and CEO Stephen Kaufer, Lily noted, is an engineer and approaches work through a hypothesis and data-driven approach. "The logic and analytical skills that an engineering foundation develops is critical to our everyday work."
This article was originally published on the Department of Engineering's website.
Date published
27 May 2015
Related People
Share This