From the Factory Floor to Davos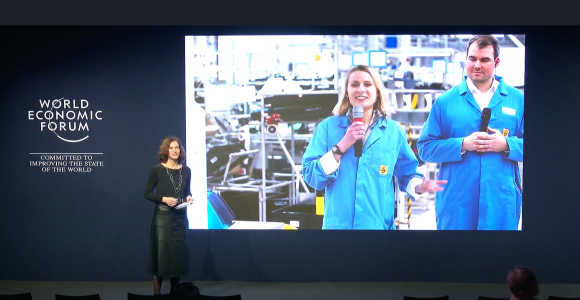 Three PhD students from the IfM - Elisa Roth, Mirco Moencks, Jessica Horn, along with their supervisor Thomas Bohné (Head of the Cyber-Human Lab at IfM) successfully facilitated a public live session at the recent World Economic Forum's Annual Meeting in Davos.
The team connected live from a Siemens factory in Germany to Davos. The session was part of the Augmented Workforce Initiative.
With his team Thomas Bohné co-founded and is co-leading the Augmented Workforce Initiative in collaboration with the World Economic Forum. The initiative is a multi-stakeholder community of senior executives from industry, academia, policy making, and NGOs. The initiative embarks on a journey to jointly understand and unlock the potential of workforce augmentation for a more empowering, productive, people-centric, inclusive and sustainable manufacturing ecosystem.
At the meeting Elisa Roth, in conversation with Judith Wiese (Chief People & Sustainability Officer, Member of the Managing Board, Siemens) together with operators and production managers from the Siemens factory, discussed the potential of people-centric manufacturing.
In order to remain an engine of prosperity, industry must lead the digital and sustainable transformation. People-centric production places the empowerment of the people on the factory floor at the centre of the production process and uses augmentation technologies to foster high-quality jobs, life-long learning, accessibility, and productivity.
Elisa says: 'We live in a manufactured world. Everything around us has been manufactured at some point. In order to improve this world, we need to empower the people working on the factory floor. The session was a unique and exciting opportunity to share my research on how to integrate technology-enabled, lifelong learning in industry.'
The interactive session was a unique format at this year's meeting in Davos, fostering cross-hierarchical exchange and workforce participation in order to shape the future of manufacturing in a more collaborative way.
A recording of the session can be found here.
The White Paper of the Augmented Workforce Initiative (PDF) can be found here.
Date published
17 February 2023
Related People
Share This