'Exemplary educator' Alan Thorne wins Pilkington Prize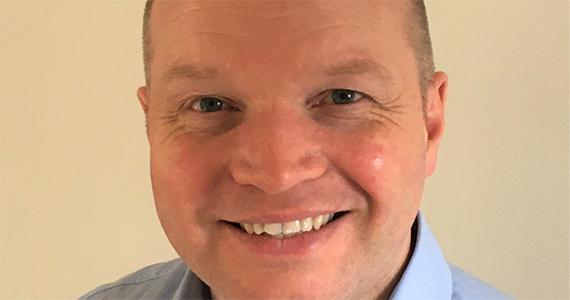 The Institute for Manufacturing's senior technical officer, Alan Thorne, has been awarded the prestigious Pilkington Prize for excellence in teaching.
The prize recognises Alan's outstanding contribution to the IfM's flagship educational 'Robot Lab', which has become one of the defining features of the Manufacturing Engineering Tripos (MET) and one that students regularly cite as the highlight of the course.
Having worked tirelessly to optimise the learning experience of automation for manufacturing engineering students for the past 25 years, Alan has been described as an 'exemplary educator' by his colleagues.
Professor Tim Minshall, Dr John C Taylor professor of innovation, head of the IfM and MET IIB course director, said: 'It is clear that Alan is an outstanding educator, who always puts the students' learning experience and well-being before his own. We cannot think of anyone more deserving of the Pilkington Prize as recognition of the past 25 years of extraordinary and exemplary teaching and outreach contributions.'
The Pilkington Prize awards were established in 1994 by Sir Alastair Pilkington to acknowledge excellence in teaching. Each year, 12 prizes are awarded to individuals who make a substantial contribution to the teaching programme of a department, faculty or the University as a whole.
On receiving the award, Alan said: 'I was surprised and delighted to win the Pilkington Prize. The Robot Lab is a real enabler for helping our students go on into industry and I'm so pleased it's been recognised in this way.'
The Robot Lab
The Robot Lab has come a long way since its first incarnation in 1995, thanks to Alan who has led its development through multiple phases.
Today, it is a central hub for both teaching and research communities, providing a safe environment where students and researchers can use the latest industrial equipment to gain valuable practical skills while at the same time being able to test and demonstrate new academic developments.
As well as helping design, set up and oversee all the technical elements of the Robot Lab, Alan has long championed its role in the development of professional engineers and as a key opportunity for students to apply and reflect upon knowledge gained in traditional lectures.
In 2000, he helped support a major increase in the student learning experience by integrating team building, management skills and other aspects of the MET syllabus into the Robot Lab. Between 2002 and 2005, Alan overhauled the Robot Lab again by leveraging resources brought in by the AutoID research activities. This included new robots, conveyors and integrated cells, which together enabled new learning opportunities by allowing the students to implement customisation and use route flexibility.
In continuous pursuit of a better student experience, Alan organised another overhaul between 2010 and 2015 to increase the level of complexity. Production processes such as 5-axis machining and vacuum forming were integrated in the Lab using resources provided by Mazak and Boeing. The Lab was also upgraded to include aspects such as machine vision, product quality control and operational disruption management.
The Robot Lab plays a central role in the two-week, team-based exercise of the Manufacturing Systems Engineering (MSE) module of the MET. The module requires students to design and implement a fully automated production process. Through the blending of technical and organisational (and individual and team) activities, the whole year-group is engaged around a common task which reflects real industrial practice.
'The practical exercise is intended to give students hands-on experience of the design and construction of automated systems, and to alert them to the types of problem that arise. A major part of this is experiential learning of the softer skills of project management: managing oneself, communicating, group problem solving and learning,' says Alan.
'You can teach students and give them the theory, but until they have actually tried putting something into practice, they don't necessarily absorb it all,' said Alan. 'We want them to reflect on the taught material. We want to them to put it into practice and see how it works out.'
Reflecting on his teaching experience, Alan added: 'I really enjoy the teaching and showing students how the robots move and how they work. The students get a real buzz when they see something coming together in real life. Sometimes students find the programming quite challenging, but the Robot Lab provides them with the opportunity to give it a go.'
Alan has ensured that the Robot Lab is continuously being upgraded to meet teaching needs and keeps pace with industry changes in equipment and software tools so that it sets the MET apart and provides a unique integrated learning space.
The Robot Lab has also found itself to be one of the most popular attractions in the 'Manufacturing Zone' run as part of the annual Cambridge Science Festival.
The impact of COVID-19
Faced with the impact of COVID-19, Alan designed 'blended' and fully online versions of the Robot Lab so that none of that year's students would miss out on their Robot Lab experience.
He put safety measures in place to optimise the Robot Lab both for the students who were able to attend in-person as well as those who were only able to join remotely. This required the development of a completely new course configuration where students develop robot control code remotely and trial this on a simulation system; providing a safe face-to-face in-lab teaching strategy for those students who wished to trial and demonstrate their developments on physical laboratory equipment; and developing a new training module to help students improve their off-line robot programming skills.
'The past year has been very different, and teaching has been very challenging. Companies have helped us by offering free software which has helped us keep the Robot Lab working,' said Alan. 'So we've adapted by using a lot of industry-relevant tools like offline simulation techniques.'
Beyond the Robot Lab
Alan has a varied background in the field of automation and control. He began his career in 1989 at the University of Cambridge Engineering Department as an apprentice, going on to become a research technician on a British Aerospace research project, developing flexible automation systems for the production of sub-assemblies on civil and military aircraft.
He went on to graduate from Anglia Polytechnic University with a B. Eng (Hons) in Electronics and Control Systems in 1997 and gained an MPhil Enhanced Airport Operations from University of Cambridge Engineering Department in 2009.
Beyond the Robot Lab, Alan makes substantial contributions to the MET IIA course through his leadership in workshop inductions and CAD-CAM exercises; and supervises several industrial student projects each year.
Alan is member of the Distributed Information and Automation Laboratory (DIAL) research group, providing expertise in the area of Automation and Auto-ID technologies. He was Co-founder of the Aero-ID Technologies programme, working with Boeing, Airbus, Embraer and the ATA to help support adoption of ID Technologies in the aerospace sector. More recently Alan has worked on Boeing research programmes developing resilient production operations and led initiatives to deploy research work back into Boeing factory sites in the Seattle area. Alan is actively involved in helping companies develop industrial automation strategies, continuously reflecting on these developments and ensuring teaching activities meet these needs.
Prof Colm Durkan, the Department of Engineering's deputy head of department for teaching, said: 'Alan has always gone down the route of doing what he thinks is educationally best rather than what is easiest. This year in particular was no exception, where Alan completely modified the Robot Lab to ensure our students got the most out of it. Alan's entire career has been spent putting student education at the top of his agenda.'
Award ceremony
The 27th Pilkington Prize awards ceremony was held online on 29 June.
Thirteen members of staff were celebrated for their outstanding contributions to education, with the Prizes awarded by the Senior Pro-Vice-Chancellor for Education, Professor Graham Virgo. The ceremony was opened with a message of congratulations and thanks from Vice-Chancellor Professor Stephen Toope, and we were pleased to be joined by relatives of the donors, Ros & Jeff Christian and Angela & Christopher Cooper.
Alan said: 'The prize reflects the real teamwork that goes into making the Robot Lab work and I'm really grateful to everyone who supports its activities and it's development over the years'.
Watch the Vice-Chancellor's video message
Details of the ceremony and all the Prize Winners
Find out more about the IfM's Robot Lab
The MET course provides a masters level option for undergraduate engineers wishing to specialise in manufacturing. Find out more
Date published
30 June 2021
Related People
Share This