Boeing talk: Making it lighter, cheaper and faster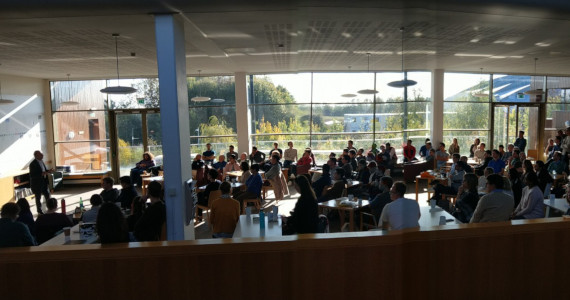 We were lucky to be joined at the IfM on 30 October by Dr Leo Christodoulou, The Boeing Company's Director of Structures and Materials, Enterprise Operations and Technology, who talked to an engaged audience of staff, students and visitors.
Dr Christodoulou used his theme 'Making it Lighter, Cheaper and Faster' to talk about how Boeing addresses the unique manufacturing challenges in aerospace through an innovation-driven approach to design and production, and by keeping one eye on the future 'next big thing'.
"I love making things!" he explained, sharing his own background and path through to engineering at Boeing. The excitement of new possibilities never diminishes when there are, as he described it, "a dizzying number of opportunities in virtually every discipline" at Boeing.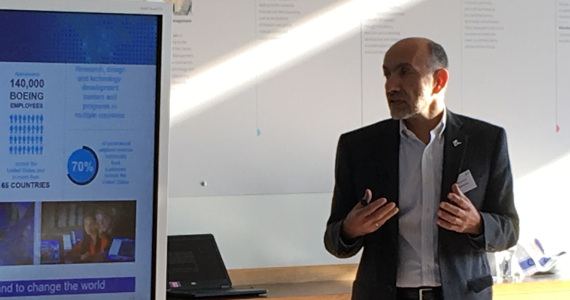 He also underlined his passion for nurturing new ideas, even those that may seem outlandish at first glance. It is vital to keep an open mind, Dr Christodoulou argued, because it is too easy to kill good ideas. To illustrate this, he drew on the example of an article from the New York Times on 9th October 1903 which said:
"The machine which will really fly might be evolved by the combined and continuous efforts of mathematicians and mechanics in from one million to ten million years."
On the same day, Orville Wright wrote in his diary: "We started assembly today."
Dr Christodoulou explained some of the particular approaches and challenges involved in designing and manufacturing aeroplanes. Aircraft wings, for example, are so large that they cannot easily be made in a separate place from the rest of the aircraft and transported. Robots used in the building process are smaller than the aircraft, which is a different way of constructing an item compared with automotive where the robots are larger and reach around the outside of the vehicle.
He also talked about the importance of meeting not only the needs of customers, but also their desires - such designing aeroplane tail fins in colourful, branded designs. He talked about how technologies such as additive manufacturing can be used to go above and beyond in delivering products that customers are excited about.
Finally, Dr Christodoulou challenged the IfM audience to consider how disruption will change flight in the future, including how cost and environmental impact will be accounted for. This was followed by questions and answers from the audience.
We would like to thank Dr Christodoulou for a fascinating, thought-provoking talk.
Date published
5 November 2018
Related People
Share This