Dr Alan Reece 1927 - 2012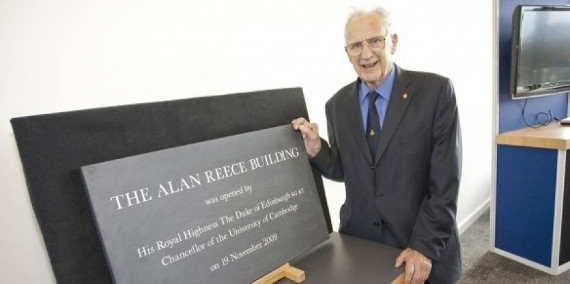 The University is sad to report the death of one of its benefactors.
Dr Alan Reece, who donated £5 million to the Institute for Manufacturing (IfM) for their new home at West Cambridge, which is named The Alan Reece Building, passed away on New Year's Eve aged 85.
One of the North East's most successful businessmen, he was the man behind engineering business The Reece group which has a turnover in excess of £211 million and 450 employees.
He only embarked on his business career at the age of 55 after 30 years teaching mechanical engineering at Newcastle University where he had studied as an undergraduate.
He became well known for his application of soil mechanics principles to the design of earth moving equipment. Starting in 1976 he designed a highly efficient undersea plough which cut the costs of safely installing telecoms cables and undersea pipelines and increased the reliability of international telephone calls.
His first company, Soil Machine Dynamics, an underwater vehicle manufacturing company, was one of the very first university break-out businesses.
Another of his companies, Pearson Engineering , is focused on the design and development of countermine and counter IED equipment that increases the capability of armoured fighting vehicles.
In 2012 the company won a Queen's Award for Enterprise in Innovation for its "SPARK" mine rollers which have been used in Iraq and Afghanistan and have been responsible for saving hundreds of soldiers from death and injury.
In 2011 Alan Reece was named the third biggest philanthropist in the UK. His Reece Foundation has given millions of pounds to support engineering education.
Professor Sir Mike Gregory, Director of the IfM, said: "Alan Reece was a pioneering engineer and business man who had the rare ability to develop radical engineering ideas through to successful business enterprises.
"He provided a splendid example for the next generation of engineers and his generosity to the IfM made possible our new building which is providing a vibrant focus for manufacturing, education, research and practice."
Date published
16 January 2013
Related People
Share This